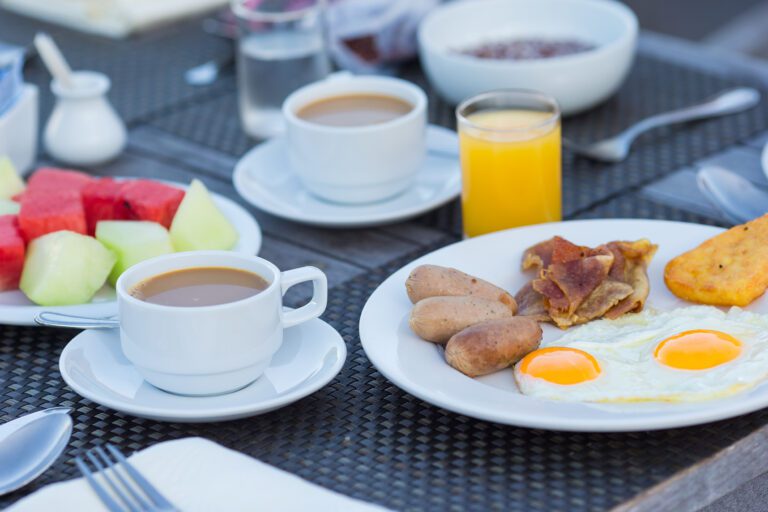 Whether you need a break from the monotonous breakfast routine at home or you're looking to celebrate a promotion over brunch mimosas, Denver has a multitude of delicious breakfast and brunch spots around town. Many of the chefs serve up creative twists on the classics or keep it simple for those who want to dive into a hearty plate of scrambled eggs and hash browns. Whichever way you take your eggs, they're sure to taste better relaxing on an outdoor patio with friends and family sitting across the table.
Where? 2893 Roslyn Street
Nothing beats a hearty Southern-style breakfast. Four Friends Kitchen in Denver was started by four friends who wanted to bring a quality brunch option to their neighborhood. The kitchen opened in 2015 and has remained locally owned and operated in the ensuing years. The American eatery serves up plates of classic beignets, fried green tomatoes, and their signature bacon grits that are drizzled with a serrano buttermilk aioli. Entrees include smoked brisket hash and eggs, berries and cream French toast, and a healthier take on a banana split served with Greek yogurt, berries, and granola.
Four Friends Kitchen has an extensive offering of classic omelets and southern-inspired Benedicts, as well as a selection of grits that are sure to win anybody over. There is a specialty vegetarian and plant-based menu that's offered upon request. If you're looking to make brunch into an event, grab the drink menu and try any one of the delectable brunch cocktails. Mimosas, espresso martinis, sangria, and even a spicy pineapple margarita are all available to order.
PRO Tip: Kids can order off the Little Britches menu, which provides smaller portions for guests 10 years old or younger.
Where? 600 East 13th Avenue Pearl Street
Jelly Cafe has two Denver locations, making it convenient to enjoy its selection of breakfast items and lunch specials. No breakfast at Jelly is complete without an order of the donut bites, which are fried to order and feature a variety of flavors and textures which include jelly-filled, cinnamon sugar, Mexican chocolate, Thai peanut, lemon-filled, creme anglaise, salted caramel, and maple bacon. The donuts can be ordered gluten-free as well, ensuring everybody at the table has the opportunity to enjoy the rich sweetness of this morning's treat.
Jelly's menu features breakfast classics such as French toast, pancakes, southern biscuits, and sausage gravy, and an array of eggs Benedicts. Those looking to fuel up for a big day may want to try the breakfast burrito that's smothered in sour cream, cheese, and pico de Gallo or keep it light with the avocado caprese toast served on toasted multigrain bread. The breakfast joint offers multiple veggie options for those at the table who opt out of a carnivorous diet, while still keeping the dish tasty and thoughtfully served.
PRO Tip: Both Jelly Cafe locations open at 7 AM every day of the week, allowing early birds to grab a bite to eat before they start their day.
Where? 3550 East Colfax Avenue
Fox Run Cafe is a Colfax favorite and for good reason. The popular eatery serves breakfast and brunch favorites from 8 AM to 3 PM, at which point they transition to their lunch service. Founded on the idea that breakfast is the cornerstone of comfort and hospitality. Fox Run aims to be the place where neighbors can come to feel at home. Daily menu items feature griddled banana bread that boasts of being "better than grandmas" and lemon ricotta pancakes served with a mixed berry jam.
On the savory side, Fox Run Cafe serves sausage and chicken biscuits, huevos rancheros, and soft scrambled egg toast. Breakfast burritos are served up until noon and feature scrambled eggs, vegetarian green chili, fried potatoes, and the diner's choice of bacon, sausage, or avocado. Cocktail options include Bloody Marys, margaritas, Palomas, and a cold brew whiskey that gets you buzzed and caffeinated simultaneously.
PRO Tip: For those looking to keep their brunch plans sober, the cafe serves Queen City drip coffee and nitro cold brew. There are also tea options and a house lemonade that's refreshing on a warm afternoon.
Where? 1817 Central Street
The Bindery serves up an artisanal take on breakfast and brunch foods and incorporates energy-efficient systems through its lighting and appliances. Breakfast is served all day and includes dishes such as The 5280, served with a buttermilk biscuit, scrambled eggs, roasted green chiles, and is smothered with roasted shishitos and jalapeños. Daily baked goods include croissants, pork and green chili hand pies, scones, and of course, freshly baked cinnamon rolls.
On the weekends, brunch is served between 8 AM and 3 PM. Challah French toast with maple strawberries and the sweet corn and cherry waffles will both fulfill the sweet tooth craving. The Cape Cod lobster roll and fries are served on a brown butter toasted croissant with house-made basil mayo and are sure to incite rave reviews. The "Eggs & More" menu features more classic brunch favorites, such as eggs and grits, omelets, and even steak and eggs served with duck fat potatoes for that inventive touch that The Bindery has become known for.
PRO Tip: When dining at The Bindery, the restaurant provides complimentary parking for guests. There is an attached parking garage, saving patrons time from having to locate street parking.
Where? 2752 Welton Street
Mimosas is located in Denver's historic Five Points neighborhood and since being founded in 2020, has quickly become a go-to breakfast and brunch spot. The gourmet food concepts both innovate classic staples and bring the comforting familiarity of a filling plate of breakfast food. Those looking for something on the sweeter side will enjoy the berry blast French toast, served with lemon mascarpone and fresh berries, or the bourbon maple sticky bun. If you're looking to get your protein in, entrees include a Welton omelet, a crab cake Benedict, and even cajun fried chicken and waffles.
Naturally, a restaurant dubbed "Mimosas" needs to have an impressive mimosa offering. Diners can opt for single glasses or go for a flight. Other brunch cocktails include espresso martinis, Irish coffees, and spritzers. If you're looking to keep brunch a sober experience, opt for a chai latte, a shot of espresso, or a chocolate latte if you're feeling decadent.
PRO Tip: Happy hour at Mimosas runs from Tuesday through Thursday, 8 AM to 11 AM. Snag deals on the fried chicken sandwich, the Caprese salad, and a few of the restaurant's favorite cocktails.
Where? 1600 20th Street
Instead of focusing on brunch as solely another meal, The Original understands that brunch represents a ritual that brings loved ones together over delicious food. They've thoughtfully curated an ambiance that allows for connections to be made over their gourmet dishes and cater to a variety of palates. Shareables include the doughnut sliders, served with Angus beef, onion jam, and American cheese, and cinnamon croughnuts with chocolate sauce and crème anglaise.
If you want to lean more into the lunch arena, The Original serves fried chicken sandwiches and turkey clubs. Breakfast food aficionados will be excited about the short rib benny, the mushroom frittata, and of course, the signature pancakes served with whipped butter, maple syrup, and fresh berries. The brioche French toast is fit for a celebration, served with crème brulée batter. Those wanting a heartier dish can opt for the steak & eggs or the country fried steak served with breakfast potatoes and a sausage gravy.
PRO Tip: Brunch is available every day of the week, from 7 AM to 3 PM. The Original hosts drag brunches, puppies and pancakes dog adoption brunches, and more exciting events to bring the community together.
Where? 2217 East 21st Avenue
Those looking to mix up their brunch plans can head to the traditional French Moroccan cafe on East 21st Avenue that serves up tasty pastries, high-quality coffee, and a range of breakfast and brunch options. The location is situated across from City Park and was opened in 2017 to a line of people who were eager to get their hands on a cup of coffee and a pastry. The restaurant has since grown into its shoes and now offers crepes, sandwiches, and traditional Moroccan bites. Once you eat at Café Miriam, it's not difficult to see why they've ranked as the best breakfast restaurant in Colorado two years in a row on Yelp.
Breakfast specials feature burrito con huevos, served with a side of potatoes and a mini croissant, and the P'tit De Parisien, which is served with sunny side eggs, Black Forest ham, potatoes, and French bread. Sandwich meals include the Swiss and ham, the lox on bagel, and the Mediterranean which has roasted chicken and pesto, sun-dried tomatoes, and Kalamata olives on a ciabatta roll. Veggie options include the hummus plate, the beet salad, and a fruit bowl with seasonal produce.
PRO Tip: Brunch hours run from 7:30 AM to 3:30 PM Tuesday through Sunday. Orders can be placed for pickup when you don't have the time to sit down at the restaurant but still want to enjoy a delicious brunch at home or on the go.
Where? 3033 East 1st Avenue
The Urban Egg in Cherry Creek boasts award-winning breakfast selections such as their gourmet sandwiches, including the Urbano on a pressed baguette with applewood smoked bacon and a tomato black peppercorn mustard aioli. On the lighter side, Urban Egg features breakfast quinoa, granola, and yogurt, and a healthy buddha bowl that will get your greens in for the day. Across the menu, there are vegan alternatives available, as well as gluten-free options that are provided upon request.
It's hard to go wrong with anything on Urban Egg's extensive menu. The restaurant whips up Benedict variations such as the Tuscan with prosciutto and basil and the Southwest with an open-face tamale and green chili chorizo. If you want to get your breakfast buzz on, the cocktail menu includes the Rise & Pine martini and the "Breckfast" old fashioned mixed with Breckenridge Bourbon. Keep it simple with a house blend coffee or an Urchata, which combines chocolate and chai.
PRO Tip: Since Urban Egg's inception in 2002, the company has been dedicated to providing the freshest and healthiest ingredients for guests. The restaurant is committed to various charitable organizations, meaning that your support allows them to give back to the local community and organizations such as United Way and the Wounded Warrior Foundation.
Where? 2095 South Ogden Street
When dining at Lucile's, ordering beignets is a must. The homemade New Orleans-style donuts are served four per order and are piping hot when they hit the table. Other NOLA delicacies include the Pain Perdu, which is French toast served with an egg and hot Louisiana sausage, all drizzled with buttery praline syrup. The Cajun Breakfast is served with red beans, poached eggs, and house-made hollandaise. The dish can be served with grits or potatoes and of course, a flaky buttermilk biscuit.
Lucile's sells brunch kits on weekdays, including the biscuit and gravy kit that serves between 4-6. The kit includes 6 of Lucile's famous buttermilk biscuits, a quart of sausage gravy, and a bottle of the restaurant's hot sauce. The mimosa kit has a bottle of Zonin Prosecco and a bottle of freshly squeezed juice. Those seeking a sweeter option can snag the Lucile's Pain Perdu kit, which comes with French toast, sausage, eggs, fruit, and syrup.
PRO Tip: If you can't make it to the South Ogden location, Lucile's has several spots around town — including nearby cities such as Boulder, Littleton, and Fort Collins. The original Boulder location opened in 1980 and continues to reside in a small historic Victorian house.