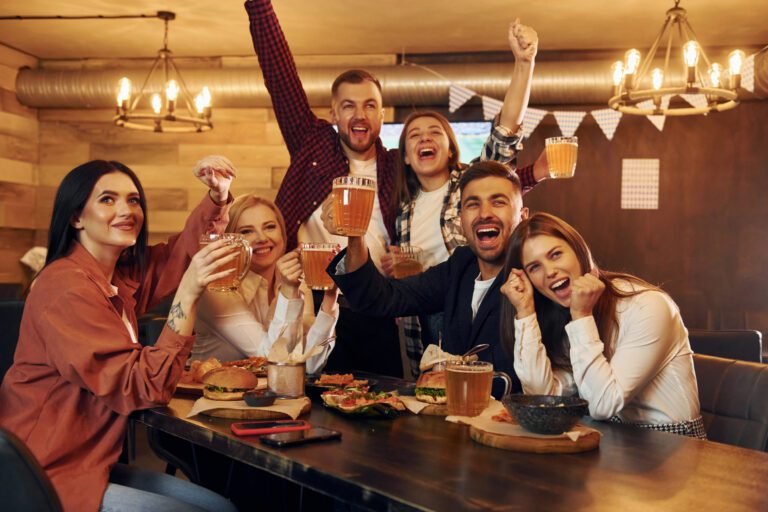 If you're up for a friendly round of competitive trivia, Denver has a multitude of breweries, restaurants, bars, and lounges that host weekly games. Not only is trivia a fun social event that's generally enjoyed over light snacks and drinks, but it's also a great way to meet people if you're new to the city. Invite a couple of friends or coworkers along and dive into categories ranging from local history, geography, pop culture, and even rounds dedicated to song titles.
Where? 1509 North Marion Street
Trivia Tuesdays at The Mansion on Colfax begin at 7 PM and feature over $300 in prizes. Guests can expect there to be food and drink specials and plenty of seating available. The game winds down around 10 PM, allowing for three hours of raucous laughs, friendly competition, and good drinks. Bingo is hosted every Friday, featuring over $200 in prizes if trivia isn't your speed. On Thursdays, The Mansion hosts live music and a happy hour.
PRO Tip: The Mansion on Colfax also hosts open mic nights, themed brunches, and even pop-up bars like the upcoming Haunted Mansion interactive horror theme.
Where? 1320 20th Street
Every Monday night, Giggling Grizzly invites you to join in on fun quiz questions and drink specials while competing to win prizes. $3 domestic drafts, $4 wells, and $5 select shots will keep the party going all evening. If you're hungry, grab a brat for $5. The kitchen stays open until midnight so you won't be leaving hungry.
PRO Tip: At Giggling Grizzly, Mondays are for karaoke and Tuesdays are for $10 chicken tenders, fries, PBR drafts, and Gatorade shots. Thursdays have discounted wings. If trivia isn't for you, check out their other weekday specials.
Where? 9150 Commerce Center Circle #300
Grist Brew Co hosts a trivia night every other Wednesday that gives out neat prizes, delicious food, and some of their fantastic local brews. Grist has been open since 2013 and continues to host fun community events that build a sense of belonging amongst guests. Their craft beers are innovative and use quality ingredients and expert techniques.
PRO Tip: Trivia is open to the public and guests are welcome to invite friends along. Participation is free, though it's encouraged to support local businesses and purchase drinks and food on the premises.
Where? 1111 Lincoln Street
This event is hosted by Team Trivia Colorado and lasts approximately 2 hours. Trivia night is open to the public every Thursday at Stoney's Bar and Grill, with fabulous prizes on the line. Participants should plan to show up before 7 PM and invite friends, coworkers, and family to liven up the atmosphere. This locally owned Denver bar is a great spot to watch your favorite NFL, NHL, and NCAA teams compete throughout the season and is a favorite amongst sports enthusiasts who also enjoy lively rounds of friendly trivia.
PRO Tip: Participants will be directed to downloadable answer sheets but are asked to bring their own pen along with them.
Where? 5950 South Platte Canyon Road
The trivia event at Locavore Beer Works is hosted by the Denver Trivia League. Every Wednesday between 7 PM and 9 PM, contestants are invited to drink beer, answer questions, and compete for a free bar tab gift card. The top three teams receive prizes ranging from $10 to $30. Questions can range from current events, music, pop culture, and even Colorado history. Each game includes six rounds and includes a designated music round, visual round, and Jeopardy round to cap off the night.
PRO Tip: Aside from trivia night, Locavore also hosts a dart league and a bend and brew, which includes stretching in the grassy backyard and plenty of carbs afterward washed down by a brew.
Where? 3200 Pecos Street
Avanti invites Denverites to join them every Monday night starting at 7 PM to enjoy a game of trivia in the lounge. The Smarty Party is hosted by Avanti's Greg Studley and awards prizes as well as drink specials. The event itself is free, though guests are encouraged to grab a bite to eat from the restaurants on the premises such as Gorlami Pizza, 22 Provisions, and Knockabout Burgers.
PRO Tip: There are over 20 draft beers and a multitude of classic cocktails at Avanti, as well as affordably priced wine. Stop by one of the bars before snagging a seat for trivia.
Where? 5995 South Santa Fe Drive
If you think you're smart or at least like the chance to win cool prizes, JAMMIN' Trivia at Platte River Bar & Grill invites you to join in on the fun next Trivia Tuesday. Food and drink are both available and your group gets to test their competitive edge to be one of the top 3 teams at the end of the night. The games begin at 7 PM and contestants can opt to play as an individual or as part of a team.
PRO Tip: Trivia is free to play and prizes are valued at over $75. The bar and grill runs drink specials that keep spirits high whether you're winning or losing.
Where? 1675 West 67th Avenue
Bruz Beers hosts trivia night every Wednesday, beginning at 7 p.m. Questions may include categories such as elementary music, food origins, and close-ups. There are generally food trucks available and of course, plenty of beer. There are prizes given away nightly and the company invites you to join up with a team and compete in both useful and useless knowledge.
PRO Tip: If you've never visited Bruz Beers before, the artisanal brewery is dedicated to brewing a traditional Belgian-style brew. Be sure to try the Dame Blanche spiced with orange peel and coriander.
Where? 1800 Wazee Street
Each Thursday, the Denver Milk Market hosts its popular trivia night with Geeks Who Drink between the hours of 7 PM to 9 PM. Specials include $5 pizzas and $10 pitchers while you compete with your friends for exciting prizes. This famous pub quiz is growing in popularity and allows winners to boast their achievements to their friends and coworkers at upcoming trivia games. Teams can host up to 6 players, though solo participants are welcome and they'll be able to find a team that's coming up short on players.
PRO Tip: No registration is required to participate and it's encouraged to just show up with a fun-loving attitude. Quizzes can cover anything and everything, from science and sports, to the Billboard Hot 100.
Where? 8880 East Arapahoe Road
Finn McCools hosts regular trivia nights, ranging in theme and rowdiness levels. Thursday night trivia runs from 7 PM to 9 PM and invites guests to test their knowledge in a wide-ranging game of questions. Pulling answers from Harrison Ford films to geographical knowledge, the ultimate winner will be crowned at the end of the night. On the last Saturday of the month, the bar and grill also hosts an adult-rated game of trivia that generally attracts a more raucous crowd and invites plenty of laughter and drinking.
PRO Tip: Aside from trivia night, Finn McCools also has multiple weekly specials such as $1 off sliders on Tuesdays and $3 off pizza on Mondays.
Where? 2598 South Broadway
This popular Denver Italian lounge has been a staple for over seven decades, serving up affordable drink specials and fun events throughout the week. Trivia Mondays draw in a loyal crowd. The games begin promptly at 7 PM. Arrive early for a good seat and order off of the dinner menu that's served until 9 PM. Classics like lasagna, spaghetti, and sausage and peppers are sure to get you primed for a little bit of friendly trivia competition.
PRO Tip: Aside from trivia, Gennaro's also hosts Bingo games every second Friday of the month, as well as an open stage jam on Tuesdays.
Where? 4100 Jason Street
Every Thursday, join in on a lively round of trivia. The game is free to play, though you may want to show up early or call ahead for a table to ensure you have a spot. The Swiss-inspired cidery is also home to a coffeehaus that roasts its beans on location. The 15+ ciders on tap include the Hot Fuzz, which is peachy and spiced with habanero peppers, and the Dark Cherry Bomb which has a sweet vanilla profile.
PRO Tip: Other upcoming events at Waldschänke include a comedy show, yoga, and brunch, as well as a Swiss National Day celebration.
Where? 2501 Sheridan Boulevard
Every Tuesday at 7 PM, the director of brewing at Joyride Brewing Company, Dave, hosts an exciting and rambunctious round of trivia. Questions are free for all and can span across a range of potential topics and the winner of each round receives arguably the best prize of all — free beer! 2022 marked the 100th Trivia Extravaganza, with the event still going strong. Food trucks are often available for light bites and as always, there's plenty of shenanigans throughout the evening.
PRO Tip: Trivia night at Joyride Brewing Company is a no-phone-zone, so keep this in mind if you have any tricks up your sleeve!
Where? 3851 Steele Street Unit 1388
Trivia games run weekly on Wednesdays, beginning at 6:30 PM and are slated to run until 9 PM. Prizes are awarded to first and second place, giving you double the opportunity to show off your bank of knowledge. As always, trivia is free to play and is best enjoyed over Cohesion's tasty brews and a group of fun-loving friends. The game is hosted by the Denver Trivia League and categories are diversified to keep things fair and interesting.
PRO Tip: Cohesion keeps an updated calendar of all of their exciting events, including trivia nights, a Bonuts Donuts pop-up, food trucks, and even a bread pickup from Big Raven.
Where? 1920 East Colfax Avenue
Trivia Night at Pete's Satire is powered by Triviality and is scheduled for every Wednesday beginning at 7 PM. Prizes are awarded to first, second, and third-place teams. The fun and laid-back bar is known for its chilled bartenders and tasty drinks and bites. Happy hour begins at 5 PM, so arrive early and get your drink on before the games begin.
PRO Tip: If trivia isn't your thing, Pete's Satire Lounge also hosts karaoke nights every Friday and Saturday between 9 PM and 1 AM.
Where? 3200 Larimer Street
Every Tuesday between 7 PM and 9 PM, trivia aficionados are invited to Think Up Trivia night at The Infinite Monkey Theorem. There's plenty of space to settle in and get comfortable and even the opportunity to win free wine. Trivia spans a range of categories, so there's a little something for everybody's knowledge set. The winery is woman-owned and operated and puts its proceeds towards local charities, which creates an inclusive space for everyone wanting to show their support through drinking wine and creating memories.
PRO Tip: Trivia isn't the only fun event being hosted at Infinite Monkey Theorem throughout the week, with comedy nights, social happy hours, and even an ASL crash course on the calendar.
Where? 4499 West 38th Avenue
If you enjoy winning cool prizes, drinking good beer, and laughing with friends — trivia night at FlyteCo Brewing is the place to be. Trivia is hosted every Tuesday night in the taproom, beginning at 7 PM and generally lasts a couple of hours. Join Trivia Dan and a group of like-minded trivia enthusiasts to test your knowledge across a variety of topics for the chance to win free beer. On occasion, trivia nights will have a specific theme, such as the upcoming "First Time Home Buyer Class."
PRO Tip: Participation in trivia night is completely free, though same-day reservations are strongly encouraged to ensure you have a spot in the contest.