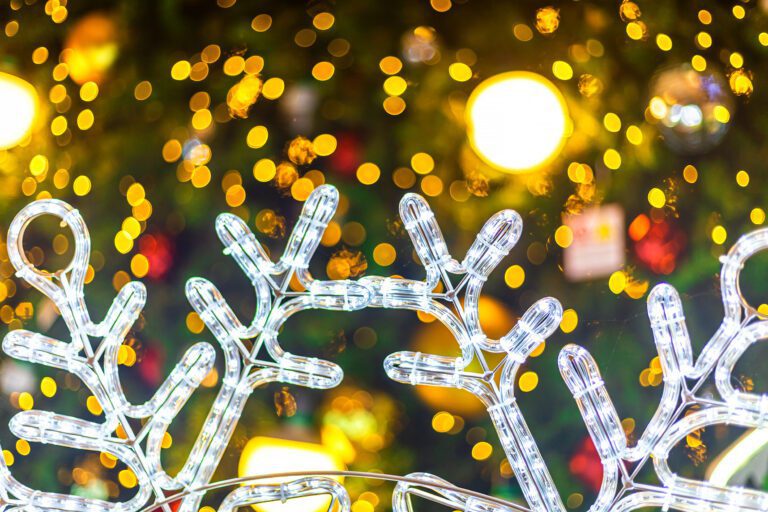 Most everyone is in high spirits this time of year (unless you're a Grinch or a Scrooge). This is the season of giving thanks, giving back, and spreading cheer. It's all about making memories, appreciating family and friends, and indulging in good food and company. Denver has so much going on this time of year too and as a follow up to Thing To Do With Kids in Denver This Winter, we thought we would put together some important holiday events coming up in Denver for you to mark on your calendar.
WHEN: Nov 11th – Jan 8th, 2023 – check out their hours of operation on their site
WHERE: Adventure Golf & Raceway, Westminster
HOW MUCH: Adult (13-59) $12, Child (4-12) $10, Senior (60 & over) $10, Toddlers (3 & under) – Free
Adventure Golf & Raceway transforms into a beautiful holiday-themed light display with more than 100,000 interactive lights on all three courses this time of year!
This is not your typical light display, as weather permitting, you can enjoy putting through the magical light displays.
PRO Tips:
WHEN: Nov 17th – Dec 24th, 2022
WHERE: Cherry Creek North
HOW MUCH: Free
At Cherry Creek North, there are nearly a million twinkling lights wrapping more than 600 trees.
PRO Tips:
During this time kids can take part in the Wander & Win light walk, which will have them searching for eight sparkling trees that are choreographed to winter melodies, with a chance to win a $1,000 Cherry Creek North shopping spree!
On Saturdays (Dec 3rd, 10th & 17th), from 5-7pm, watch as stilt walkers, acrobats, jugglers, and performers add to the festive atmosphere, creating an evening to remember for the whole family.
WHEN: Nov 17th – Dec 24th, 2022
WHERE: Cherry Creek North
HOW MUCH: Free
The Cherry Creek North Holiday Market is at the Fillmore Plaza and features over 80 local artisan vendors, live music, and festive drinks and decor.
PRO Tip: The vendors rotate over the days, so come back and experience the fun time and again.
WHEN: Nov 17th – Dec 24th, 2022
WHERE: Heritage Lakewood Belmar Park
HOW MUCH: There are timed entries as well as flexible ones. Check out pricing and dates on the site.
Denver's quirkiest holiday tradition, returns to Heritage Lakewood Belmar Park.
Handcrafted by Camp Director, Lonnie Hanzon and his band of local magic makers, Camp Christmas is a dazzling dreamscape, with a classic carousel, elaborate campgrounds, three themed bars, shimmering light displays, and immersive exhibits.
So, round up the whole family (or your chosen family) and join the celebration!
WHEN: Nov 18th – Dec 23rd, 2022
WHERE: Civic Center Park
HOW MUCH: Free
This outdoor event brings us an authentic German holiday market experience at our doorstep. Stroll through European style alleys decorated for the holiday as you shop for finely crafted artisan gifts and yummy treats.
Savor the season with traditional Glühwein, German biers, and traditional holiday fare from across Europe.
PRO Tip: Download the app for lots more information.
WHEN: Nov 18th – Dec 31st, 2022, 5 p.m. – 10 p.m. (open every day)
WHERE: Civic Center Park
HOW MUCH: Free
Speaking of the Denver Christkindlmarket, this year The Mile High Tree (Americas tallest digital tree at 110 feet) will be located within the market.
During open times, visitors to the tree will enjoy a selection of festive and diverse songs timed to the tree's exciting light displays. The programs start every 15 minutes.
WHEN: Nov 18th – Jan 2nd, 2023, (Closed on Thanksgiving and Christmas Day)
WHERE: Three locations in CO
HOW MUCH: $35 (One ticket per vehicle • No Limos, Buses, or RVs)
Christmas in Color is a drive-thru animated light show.
Drive through more than 1 million lights perfectly synchronized to holiday music that can be heard by winding down your windows, or right through your radio.
PRO Tip: Check out their video to get an idea of the fun.
WHEN: Nov 18th – Jan 7th, 2023
WHERE: Denver Botanic Gardens, York Street
HOW MUCH: Adult (13-64) $24, Child (3-15) $20, Senior (65 & over) $22, Toddlers (3 & under) – Free
The Botanic Gardens' signature event since the 1980s, this annual holiday lights extravaganza takes a year to plan and execute and transforms their York Street location into a twinkling winter wonderland.
Check out the video from last year to get an idea of this spectacle.
PRO Tips:
WHEN: Nov 21st – Feb 14th, 2023 (opens at 3pm)
WHERE: Skyline Park
HOW MUCH: Skate Rentals for adults are $11 and $9 for kids 12 and under. Bring your own pair and skate for free! If you need Skate walker for assistance you can also rent one $5.
Located in Skyline at 1601 Arapahoe St., Denver, come have fun at the Downtown Denver Rink.
PRO Tip: We suggest bringing multiple pairs of socks, or one pair of thick, warm socks. We also recommend wearing a pair of gloves or mittens while skating.
WHEN: Nov 23rd – Jan 22nd, 2023
WHERE: City & County of Denver​ Building in Civic Center Park
HOW MUCH: Free
The 8-minute choreographed light and music show will occur every night at 5:45 pm and 6:45 pm. The City and County Building will showcase a festive, static light display before, between, and after the two nightly shows, until 10:45 pm.
PRO Tips:
There will not be any light and music shows on Mondays due to the City Council meetings taking place inside the building.
There will be a special light schedule on Sat, Dec. 3 to highlight activities as the 9 News Parade of Lights that begins right in front of the City and County Building.
Additionally, the City and County Building will remain completely dark for an annual memorial vigil honoring persons experiencing homelessness, on Tues, Dec. 20.
WHEN: Nov 25th – Dec 18th, 2022 (weekends)
WHERE: Dairy Block
HOW MUCH: Free
Paying homage to the quaint European holiday festivals, the Aprés Ski themed weekend festival will take place in the heated alleyway between all the shops and restaurants onsite.
The Aprés Holiday Market will give consumers the opportunity to engage with unique, independently owned, and high quality brands, while enjoying food in one of the four restaurants, or a beverage in one of three world class cocktail lounges (as well as a wine bar).
WHEN: Nov 25th – Jan 1st, 2023
WHERE: Elitch Gardens
HOW MUCH: Starting from $29.99
Luminova Holidays returns to Elitch Gardens with an even bigger, better, and brighter winter wonderland with more rides, more lights, and more holiday cheer!
Stroll through Eliches with photo ops all around in over 200,000 square feet of light displays, a 65-ft. tree, 300-ft. candy cane tunnel, and so much more!
See the lights from high above on the Ferris Wheel while sipping hot cocoa, listen to the holiday cheer of strolling carolers, and enjoy some of your favorite Elitch Gardens rides.
WHEN: Nov 25th – Jan 1st, 2023; 5 p.m. to 8:30 p.m. (closed December 25)
WHERE: Denver Botanic Gardens Chatfield Farms, Littleton
HOW MUCH: Adult (13-64) $16, Child (3-15) $12, Senior (65 & over) $14, Toddlers (3 & under) – Free
The Denver Botanic Gardens hosts two events, one in the city, The Blossoms of Lights, and this one having a more countryside feel at Chatfield Farms. There is just under a mile of walking trail, all illuminated with LED lights.
PRO Tips:
WHEN: Nov 26th – Dec 27th, 2022
WHERE: Denver Union Station
HOW MUCH: Free
Come each night from 5–10pm to see the Merry & Bright Lights outdoor light show featuring holiday music, interactive visual imagery created by local Denver artists and a 40-foot-tall Christmas tree featuring more than 7,000 holiday lights.
Have a delectable cocktail at the Miracle at Union Station, a whimsical pop-up cocktail bar, decorated for the holidays, from lunch until midnight.
And come see Santa and Mrs. Claus making their regular appearances at the station from 11am-4pm on Nov 28th, Dec 5th, 12th and 19th.
PRO Tip: The Miracle at Union Station requires reservations.
WHEN: Nov 26th – Dec 31st, 2022 (on select days)
WHERE: Hudson Gardens & Events Center, Littleton
HOW MUCH: Specific Date tickets – Adult (13-64) $15, Child (4-12) $12, Toddlers (3 & under) – Free
A Hudson Christmas is back again with their dazzling display of lights.
Featuring their lighted forest of towering trees, grove of dancing Christmas Trees, giant snowmen and glowing reindeer, holiday light tunnel and much more!
PRO Tip: You can buy Flex tickets for a little more, that allow you to arrive on any day that A Hudson Christmas is being presented.
WHEN: Nov 26th – Jan 1st, 2023
WHERE: Downtown Denver
HOW MUCH: $27 per person, $31 on XMas Eve/Day & NYE
Meet up at Denver's City & County Building (1437 Bannock St.), each night at 5:40pm, for a fun-filled, two-hour Denver holiday lights walking tour experience. This experience was designed to give you views and great photo opportunities of Denver's most beautiful and famous landmarks, magnificently lit up for this cheery time of year.
PRO Tips:
The tour ends at Union Station, which as we wrote above, has lots to offer during the holiday season too.
The walking route is relatively flat and with plenty of stops the tour is an easy walk.
For additional information make sure to check out their website.
WHEN: Dec 2nd – 31st, 2022; 12–9pm Monday–Thursday, 11am–9pm Friday–Saturday, 12–6 pm Sunday
WHERE: McGregor Square Plaza
HOW MUCH: Skate Rental + Admission: Adult (13-64) $15, Child (2-12) $9, Seniors and Toddlers go free.
The magic of winter has made its way to LoDo with McGregor Skate, an ice skating rink for all ages. There are special themed dates on Fridays from 6–8 p.m. with a live DJ. Come dressed up for:
Dec 2nd: Santa Theme
Dec 9th: Ugly Sweater Theme
Dec 16th: Santa Theme
Dec 23rd: Ugly Sweater Theme
Dec 30th: 80's Apres Ski Theme
PRO Tips:
Bring your own skates and pay only $6 for admission.
The rink is closed on Dec. 24 and 25 and closes early at 4 p.m. on Dec. 31 for The Drop New Year's Eve event.
WHEN: Dec 3rd, 2022, at 6pm
WHERE: Throughout downtown
HOW MUCH: Free
The 9NEWS Parade of Lights makes a circuit through the heart of downtown beginning at 6 p.m. on Dec 3rd, including extravagantly illuminated floats, giant helium-filled character balloons, magnificent marching bands, traditional equestrian units and so much more!
Spectators can view the parade for free along the two-mile route on Tremont Street between 14th and 17th, on 17th Street from Tremont to Arapahoe, on Arapahoe between 17th and 15th, and on 15th St. from Arapahoe to Glenarm.
For more information, see the 9NEWS Parade of Lights web page.
PRO Tips:
The parade begins at 14th and Bannock Streets where you can purchase grandstand seating in front of the City and County Building.
New this year is a fun run that follows the parade route. Before the run at 4:15pm, there will be a costume contest. The winner wearing the best festive gear will get to ride on a parade float later in the evening. Tickets for the Jingle Jog Fun Run can be purchased online.
WHEN: Dec 3rd – Jan 15th, 2023; 5:30pm – 8:30pm
WHERE: Denver Zoo
HOW MUCH: $25 Adults / $10 Kids
When it comes to holiday magic, with over 1 million lights and incredible outdoor displays, you can always count on Zoo Lights. This year their newest installations include Aurora Borealis, Savannah Sunset and Electric Jungle.
PRO Tip:
As you wander through their winter wonderland, keep an eye out for nightly ice-carving demonstrations, cozy fire barrels and all kinds of festive holiday food and drink!
Member discounts are available on specific dates.
WHEN: Dec 3rd – Feb 17th, 2023
WHERE: Children's Museum of Denver at Marsico Campus
HOW MUCH: Under Age 1: Free, Age 1: $15, Ages 2 – 59: $17, Age 60+: $15
The Children's Museum of Denver has so much to offer our little ones. From a snow hill featuring real snow, to an ice rink, curling and so much more!
PRO Tip: Members get in free.
WHEN: Dec 6th, 2022
WHERE: Aurora Municipal Center, Aurora
HOW MUCH: Free
Witness the illumination of thousands of strands of lights. This event will have holiday-themed activities, treats, live entertainment and a visit from a special guest.
PRO Tip: For further information email Minda McGurk at [email protected] or call at 303.739.6702.
WHEN: Dec 18th, 2022, 5pm
WHERE: Cherry Creek North
HOW MUCH: Free
Celebrate the first night of Chanukah with Chabad of Cherry Creek. Families and guests of all ages will enjoy face painting, fire juggling, festive treats and crafts and lots more!
More information is available on the Chabad of Cherry Creek website.