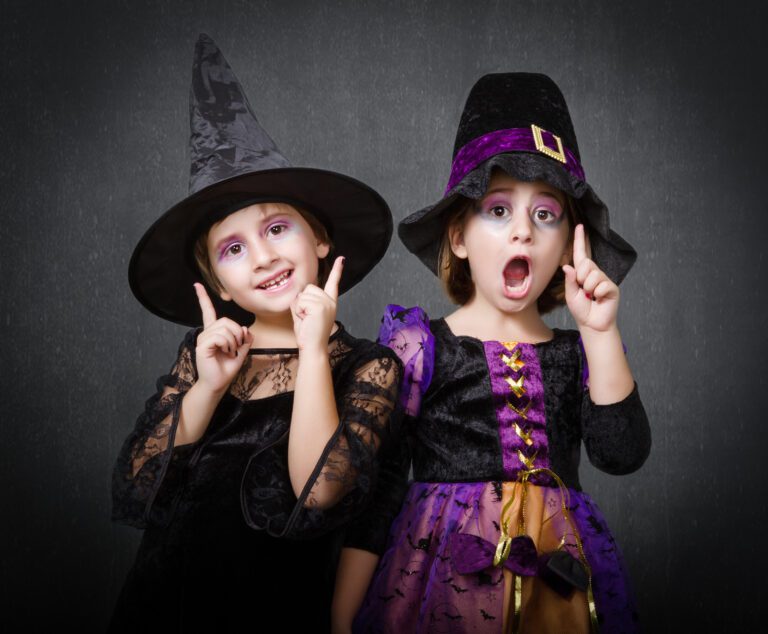 Halloween is a great time of year for all the family and a great opportunity to bond with your kids and spend quality time together. There are so many family friendly Halloween events in and around Denver, that we are spoiled for choice.
For us, the first thing that comes to mind as a favorite Halloween family tradition is pumpkin picking at a local farm. And so, our team has done a deep dive into the best pumpkin patches in and around Denver for you… Or if your family prefers a bit more of an adrenaline rush, you can also check out the best haunted house experiences in Denver together… And what would Halloween be without trick-or-treating?! Find the best neighborhoods with the best decor and candy in our trick-or-treating in Denver guide.
It's tough to boil it down to a short list, but we believe we have come up with just the right mix for you… below are some of the best family friendly events that will help your family celebrate throughout October, leading up to Halloween with kids of all ages.
What days and times: Friday, October 14th: 7:30pm. Saturday, October 15th: 2:30pm & 6:30pm
Where: 420 Courtney Way, Lafayette, CO 80026
How much: Adult: $25, Senior (65+): $20, Youth (17 and under): $15, Child (under 3): Free
Within less than 30mins drive from Denver, you can watch as aerialists, dancers and circus performers take you back to the 1700's to tell the tale of the ghost of the Headless Horseman. This Halloween production by Illuminar Ariel, is perfect for the whole family to enjoy and be entertained!
PRO Tips:
The show is 2 hours long.
Get your tickets here.
What day: Saturday, October 15th
What time: 10am – 3pm
Where: 7007 E 88th Ave, Henderson
How much: Free admission
Mile High Flea Market is hosting a Halloween trick-or-treat event where you and your kids can enjoy face painting, balloon artists, rides, activities, candy and more… and let's not forget all the shopping, food, and fun everyone loves at the flea market.
The Mile High Flea Market is the Rocky Mountain region's largest year-round, open-air shopping and entertainment destination for the whole family.
PRO Tips:
Come dressed in your best costume and join others in the Halloween spirit.
The 80-acres flea market is filled with shops selling new merchandise at discounted prices and all kinds of bargains, from tools and furniture to toys and clothes. The flea market also features plenty of antiques, kids rides and comfort foods, plus Colorado's only year-round farmers market, with fresh produce, pastries and plants.
What day: Sunday, October 16th
What time: Starts at 11am
Where: 2501 Dallas St, Aurora, CO 80010
How much: Free admission
This family favorite annual event is free and includes variety of activities for everyone to enjoy. Let the kids pick their favorite pumpkins from the Village Farm, then go and get their faces painted, or have fun at the craft tables.
Stanley Marketplace has so much to offer. There is a vendor market on the west side featuring many talented local small businesses as well as a variety of delicious restaurants inside.
PRO Tip: There is a costume contest again this year, crowning a winner in many categories, even one for your pet!
What day: Sunday, October 16th
What time: 4pm – 5pm
Where: artSpark Creative Studio, 2630 West Belleview Avenue, Suite 160, Littleton, CO
How much: $65 per participant
Pour Painting is a method created by using acrylic paint to pour on a surface and create a flowing design. This workshop allows you and your kids to try out this experience with quality craft pumpkins. You can then take your pumpkin art and add it to your Halloween decor year after year!
Each participant will get to keep one medium and one small decorative pumpkin as well as two canvas boards (5×7) that will be uses to catch the paint drips. Such a great way to cultivate your kids creativity, self expression and learning techniques.
PRO Tips:
You can drop off kids in 4th grade or older.
Canvas boards can be easily framed afterward if you choose!
Pumpkins need to dry overnight. The studio will email participants with options for pick up times the week after your workshop.
What days: October 18th – 23rd
What time: 6pm – 9pm
Where: 1007 York Street, Denver, CO 80206
How much: $25 Adults, $23 Seniors (65+), $21 Children (ages 3-15), Free admission for children 2 and younger. $2 discount for members and military.
Glow at the Gardens is a Denver, light filled, after hours celebration of America's favorite Gourd… The Pumpkin! Mystical lighting displays, beautiful glowing pumpkins (carved by local artists), spooky illuminated landscapes, pumpkin larger than life sculptures and dense displays of jack-o-lanterns are a few of the things you can expect to see in this great event. Performing artists will bring the spirits and specters to life during their shows. All in all an awesome family experience.
PRO Tips:
Come dressed in your Halloween costumes.
Tickets must be purchased in advance. Tickets have sold out for certain times so get yours quickly to avoid disappointment. If your date has sold out, note that tickets occasionally become available and are released into inventory for purchase.
You can park for free in the parking garage, but note that parking is limited and fills quickly.
What day: Saturday, October 22nd
What times: 6pm – 8pm
Where: Stretching from 5th to Alameda along Broadway
How much: Free
Back for its 5th year, the annual Broadway Halloween Parade is a community, family friendly event along Denver's famed Broadway corridor, featuring spooky floats, bands, marchers, magicians & more. So dress up (optional) and join the fun along the 9 mile parade route.
PRO Tips:
At the end of the parade, all attendees are asked to march in the street to bring the Halloween bash to a close.
We recommend you get there early to get a good spot.
We also recommend using alternative transportation as parking is very limited in this area!
To participate in the parade your business will need to register for a float, which is a donation of between $50-$100. If you are interested, you can get started by filling out this entry form.
What day: Saturday, October 22nd
What times: 12pm – 8pm
Where: Downtown Westminster
How much: Free
West Fest (formerly known as Halloween Harvest Festival) is a free family event with carnival games, trick-or-treating, spectacular hot-air balloons, live musical performances by local bands, food trucks, jumping castles, a BBQ competition, and more. You can even pick out the perfect pumpkin at the pumpkin patch!
PRO Tip: Want to be a part of the BBQ competition? Buy your tickets here and receive one ounce tasting from 10 of the 30 participating competitors.
What day: October 28th – 30th
What times: 9am – 4pm
Where: 2121 Children's Museum Drive, Denver, CO 80211
How much: Reservations will become available on October 12th and are required for all members and guests to guarantee entry.
Come dressed in your favorite costume and enjoy some fabulous Halloween activities with your little ones.
Activities include:
Monster Carnival (all day)
Clay Graveyard in The Art Studio (all day)
Fang-tastic Treats in The Teaching Kitchen (10 am – 3 pm, while supplies last)
Spooky Science – Game of Bones (daily at 10 am, 11 am, 1 pm & 2 pm)
Critter meet n' greets with Nature's Educators (daily from 10 am – 2 pm)
Campfire StoryTime (daily at 10:15 am and 1:15 pm)
Rocky Mountain Mini Train (additional fees apply)
…and so much more!
PRO Tip: There is no trick or treating at the Harvest Hoot.
What day: Saturday, October 29th
What times: 11am – 5pm
Where: 4170 Tennyson Street, Denver, CO 80212
How much: Your General Admission ticket ($12 adults, kids under 10 years old FREE) includes two (2) complimentary beverages (ages 21+ only) from amazing local breweries.
This is the 7th year that the Tennyson Street Fall Fest celebrates community in the NW Denver Berkeley neighborhood. It's fun for all ages, with LIVE MUSIC, local vendors and artisans, the 5th Annual Pet Parade Costume Contest and street wide trick-or-treat. Also, this year there will be live music with The Copper Children and a larger street event for more room to socially-distant mingle with friends and family.
PRO Tips:
All proceeds from this event benefit the Tennyson Berkeley Business Association (TBBA), to make sure that the community is supported with wholesome, family-friendly experiences. You can find more info here.
Registration for the 5th Annual Pet Costume Parade is an additional $5 entry fee (per pet)… So bring your furry friends in their most festive attire to compete for some amazing prizes!
What day: Saturday, October 29th
What times: 4:30pm – 8:30pm
Where: 715 South Forest Street, Denver, CO 80246
How much: Adults (17 and up) $20.00, Kids (7-17) $16, Kids 6 and under are free
Experience a night of immersive storytelling, featuring LuneAsea (modern dance). Wander the park enjoying face painting, crafts, and games. Above all, this enchanting evening will create a memorable Halloween evening for all the family.
Included with every ticket:
Grim Mountain Legends performances throughout the Park.
A signature cocktail or gourmet hot cocoa to sip and warm up next to the fire.
Step into the pen with tortoises or hold one of the slithering snakes.
Face painting to pair with your costume or personal creativity.
A lantern-lit tour of the House Museum.
Decorate a mini pumpkin or create your own corn husk doll at the Creepy Crafting Station.
Experience magic through movement, finding and making shapes, testing your clairvoyance with enchanted cards and our experts.
Food trucks, a full bar, a cocoa station and cookie decorating activities are also available on-site for purchase.
PRO Tips:
Costumes are encouraged!
The majority of the evening's activities are for all ages but the performance on the stage is recommended for children 8 and up.
Due to the historical significance of this site, extra care must be taken to ensure its preservation for future generations. To this end, rules and restrictions apply. No smoking or vaping; No alcohol; No glass; No feeding of Park animals; No pets (ADA defined service animals allowed).
Please note that 4MHP will be photographing this event. By attending this event, you consent to being photographed and/or filmed and also give permission to use your likeness in promotional and/or marketing materials.
What day: Sunday, October 30th
What times: Starts 2:30pm
Where: Boettcher Concert Hall, Denver Performing Arts Complex, 1000 14th Street, #15, Denver, CO 80202
How much: Adult: $27. Child: $10
This family-favorite concert features music from films, television, and more and is right in the heart of Denver! It's a ghostly-good time for every little monster and their mummy this Halloween!
PRO Tip: Costumes are encouraged, with the best of the bunch being invited to show off their creations on stage!