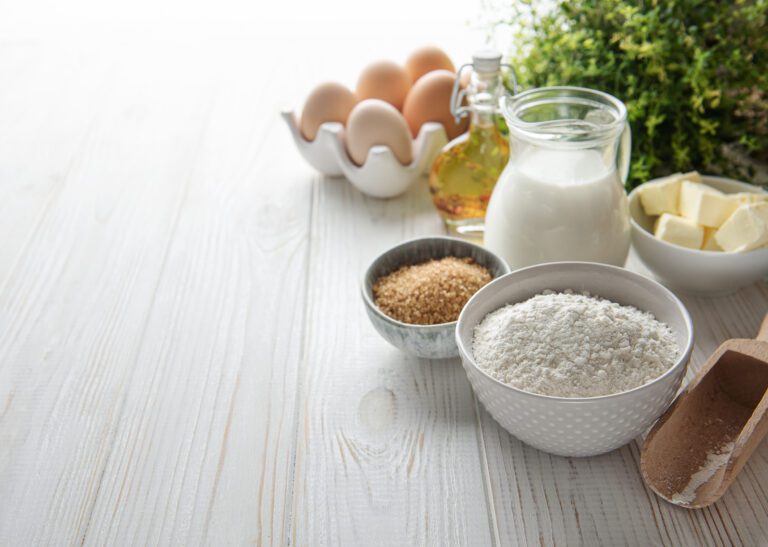 Thanksgiving is fast approaching! In recent posts, we have covered a variety of options for those who prefer not to cook this holiday. From catering to pick-up and even dining out options, we have you covered. Many of us though will still be cooking at least part of the meal this Thanksgiving and with that we thought we could help by gathering some of the yummiest recipes provided by exceptional local foodies to help get you started.
Prep Time: 20 mins
Cooking Time: 3 hours
Rest Time: 40 mins
Serves: 8
Print Recipe
Blogger and cookbook author Tieghan Gerard has published this delicious recipe.
Here are the ingredients you will need:
1 (14-16 lbs) turkey, giblets and neck removed
2 sticks (1 cup) unsalted butter, at room temperature
2 tablespoons fresh sage, plus more for stuffing the bird
2 tablespoons fresh thyme, plus more for stuffing the bird
3 tablespoons fresh parsley
zest of 1 lemon
3 teaspoons kosher salt
1 1/2 teaspoons black pepper
1 piece large of double lined cheesecloth
2 lemons, halved
1 garlic head, tips sliced off
1 onion, halved
7-8 cups low sodium chicken or turkey broth
White Wine Pan Gravy
1 cup white wine
4 tablespoons salted butter
6 tablespoons all purpose flour
drippings from the turkey
2-3 cups low sodium chicken or turkey broth, as needed
1 tablespoon fresh chopped sage
kosher salt and black pepper, to taste
Instructions
1. Remove the turkey from the fridge one hour before roasting. Remove the giblets + neck and allow to come to room temperature.
2. Make the butter. In a medium bowl, combine the 1 stick butter, the sage, thyme, parsley, lemon zest, salt and pepper.
3. Preheat the oven to 450 degrees F. Position a rack in the lower third of the oven. Place the turkey in a large roasting pan.
4. Season the cavity of the turkey with salt and pepper and fill the cavity with the lemons, garlic and onion. Gently lift the skin of the turkey by using your fingers and going in between the skin and body of the bird. Rub the herb butter under the skin of the bird, spreading some of the butter on top of the skin as well. Take the remaining 1 stick butter and melt it over the low heat on the stove or in the microwave. Dampen your cheesecloth with warm water and squeeze dry. Submerge the cheesecloth in the melted butter, making sure all the cheese cloth has soaked up the butter. Lay the cheesecloth over the bird, covering most of the bird. Drizzle any remaining butter over the turkey.
5. Pour 4 cups of chicken broth into the bottom of the roasting plan. Place the roasting pan in the oven and roast for 45 minutes at 450 degrees F. After 45 minutes reduce the oven temperature to 350 degrees F. and continue cooking for another 2 hours (until the turkey registers 160 F. on a meat thermometer), adding 1-2 cups of broth half way through roasting. Baste the turkey with the drippings 2 times throughout cooking and when doing so rotate the roasting pan.
6. Remove the turkey from the oven and remove the cheesecloth, transfer the turkey to a cutting board, tent loosely with foil and let rest 20-30 minutes before slicing.
7. Make the gravy. Strain the liquid from the roasting pan, skimming off most of the fat. Pour the broth into a 4 cup measuring cup and then place in the freezer for 10 minutes. This helps the fat rise to the top of the surface. Once you have skimmed the fat, add enough broth to equal about 4-5 cups total of drippings/broth.
8. Place the roasting pan over two burners and add a splash of wine (about 1/2 cup) to deglaze the pan. You want to scrape up all those brown bits on the bottom of the pan. Once the pan is thoroughly deglazed, add the butter and once melted, add the flour whisking to combine. Cook, stirring constantly, until the mixture is golden, around 5 minutes.
9. Increase heat to medium high and add the remaining 1/2 cup of white wine, whisking as you go to let the wine reduce down. Slowly add reserved broth, stirring constantly, until the mixture is smooth. Stir in the sage and cook, continuing to stir, until the gravy has thickened to your desired thickness, around 8 to 10 minutes. Season to taste with salt and pepper. Serve warm with the turkey.
Print Recipe
PRO Tips:
Soaking a layer of cheesecloth in melted butter, draping the butter soaked cheesecloth over the bird, then roasting the turkey with the cheesecloth ON the bird, the cloth protects the skin from burning all while basting the turkey with butter the entire time it roasts. The turkey comes out moist, tasty and the skin comes out awesome.
Tieghan has lots more recipes to choose from. She has an incredible section completely dedicated to Thanksgiving that will help you create an amazing feast. She has thought of everything, even the cocktails!
Prep Time: 15 mins
Cooking Time: 2 hrs
Rest Time: 15+ mins
Serves: 6 people, 1-2 slices
Jennifer Richmond from Kitchy Cooking is a food blogger and a cook and has a variety of fantastic recipes on her website. We chose this recipe for smaller gatherings, where instead of needing a whole turkey, we can buy a turkey breast instead. The benefit of the turkey breast is that you get the same delicious turkey, with the same tender meat and crispy skin in a smaller package which is ideal when you have up to six people.
Ingredients
4 tablespoons butter, at room temperature
1 tablespoon fresh sage, minced
1 tablespoon fresh rosemary, minced
1 teaspoon fresh thyme, minced
1 lemon
1 6-7 pound Turkey breast
salt and lemon pepper to taste
Instructions
1. Preheat the oven to 450 degrees F. Place a roasting rack in a roasting pan and set aside.
2. In a small bowl, mix together the butter, herbs and zest from the lemon until well combined, set aside. Slice the zested lemon.
3. Take the Turkey breast and loosen the skin. Slide the lemon slices under the skin. Using your hands, rub the herbed butter all over the Turkey. (You may need to re-butter your hands more than once.) Once the bird is covered, sprinkle it with salt and lemon pepper.
4. Place the breast on the roasting rack. Cook for 30 minutes or until the skin is a nice golden brown. Reduce heat to 350 degrees, tent the breast with tin foil and cook for another 90 minutes or until a thermometer reads 165 (it'll continue to cook once it's been pulled out). Let rest for at least 15 minutes. Slice and serve with your favorite gravy and dressing.
PRO Tips:
Since it is a turkey breast you won't be able to stuff it. But that doesn't mean you need to miss out on that classic Thanksgiving stuffing. Jennifer recommends turning it into a dressing.
Check out her post for further information and to print out the recipe.
Prep Time: 20 mins
Cooking Time: 3 hours
Rest Time: 30+ mins
Serves: 8
Print Recipe
Zach Johnson aka 'The Spice Guy', created a recipe for what he considers The Perfect Turkey, as he appreciates how daunting it can be to get the turkey just right: Succulent, crispy on the outside, flavorsome, tasty, and juicy.
Here is his recipe:
Ingredients
One 11-pound turkey, thawed
6 tablespoons unsalted butter, cut into 1 tablespoon knobs
1 1/2 yellow onions, peeled and halved
4 garlic cloves, peeled
1 orange or lemon
PERFECT TURKEY Seasoning
consisting of: Sea Salt, Black Pepper, Cumin, Rosemary, Ground Thyme, Colman's Mustard Pow, Cayenne, Smoked Paprika, Minced Onion, Minced Garlic
A selection of root vegetables of your choice
Instructions
1. Preheat the oven to 325 degrees F.
2. Cut the onions and vegetables into similar sizes, around 2×2 inches.
3. Use paper towels to dry the skin of the turkey and clean inside the cavity.
4. Slide your (clean) hand between the skin and the breast meat beginning at the cavity opening and slowly separating them into a pocket.
5. Slide three knobs of butter under the breast skin on both sides of the turkey. Try to spread them around evenly.
6. Using the Perfect Turkey spice rub, work the mix into the skin all over the entire bird. Use your hands to press spice rub into the skin and into the cavity. The specially selected ingredients like smoked paprika, salt, garlic, spices, lemon peel, orange peel, red bell pepper, green bell pepper, and sugar will marinate and infuse into the bird's meat and caramelize for a crispy skin.
7. Stuff the cavity with the onion halves, citrus, and garlic cloves.
8. Move the turkey to a roasting pan with a rack to avoid a soggy bird.
9. Use a large piece of foil, just big enough to fully cover the turkey breast and mold it over the entire breast area. (This will ensure the breasts don't overcook and become dry).
10. Roast the turkey for 2 hours and then carefully remove the foil from the turkey breasts. Then, increase the temperature to 400 F and cook the bird for another hour. Using an instant-read thermometer, check the internal temperature by getting a reading from the meatiest part of the thigh. The ideal temperature is 165 degrees F. Make sure the skin has crisped up and become a deep golden color.
11. Remove the turkey from the oven and let it rest for the appropriate time for the weight. Then carve.
Print Recipe
Prep Time: 15 mins
Cooking Time: 45 mins
Serves: 8
Print Recipe
If you like garlic, creamy and delicious mashed potatoes, which are easy to make, then this is the recipe for you. Another recipe from the amazing Tieghan Gerrard, that can accompany any turkey recipe for your Thanksgiving meal.
Ingredients
1 head garlic
Extra virgin olive oil
4 pounds yukon gold or russet potatoes, peeled and quartered
2 cups heavy cream
2 cups whole milk
3 sprigs fresh thyme
6-8 tablespoons salted butter at room temperature
Kosher salt and black pepper
1 orange or lemon
Instructions
1. Preheat the oven to 400° F.
2. Slice off the top portion of the garlic head to expose some of the cloves. Place the garlic on a piece of foil. Drizzle with olive oil, wrap it up, and bake for 40-55 minutes, until deeply golden and very soft.
3. Let the garlic cool, then squeeze out the cloves.
4. Meanwhile, In a large dutch oven, combine the potatoes, heavy cream, milk, sage, and thyme. Bring to a gentle boil over medium heat and cook for 20-25 minutes, until the potatoes are fork-tender.
5. Drain the potatoes, reserving all of the cream. Discard the thyme and sage. Press the potatoes and roasted garlic cloves through a potato ricer. Then add them back to the warm pot. Alternatively, you can add the potatoes back to the pot and mash with a potato masher.
6. Over low heat, add 1 1/2 cups of the reserved cream and the butter. Continue to add more of the cream until your desired consistency is reached. Season the potatoes with salt and pepper.
7. If desired, brown a little butter with sage or thyme and swirl into the potatoes before serving. Serve warm and creamy.
To make ahead:
In the Oven: Prepare the mashed potatoes as directed through step 6. Spoon the potatoes into a large baking dish. Cover and refrigerate for up to 3 days. To reheat in the oven, preheat the oven to 325° F. Pour 1/2 cup milk or cream over the potatoes and add 2 tablespoons butter, do not stir. Cover the potatoes tightly with foil and transfer to the oven. Cook for 20-25 minutes, or until the potatoes are warmed through. Stir before serving.
Slow Cooker: Prepare the mashed potatoes as directed through step 6. Spoon the potatoes into the slower cooker, cover, and keep on low for up to 4 hours. About 30 minutes before serving, turn the heat to low or high, add 1/2 cup heavy cream and 2 tablespoons butter, do not stir. Cover and let the cream warm and the butter melt. Stir before serving.
On the Stove: Prepare the mashed potatoes as directed through step 6. Add 1/2 cup cream and 2 tablespoons butter. Place the potatoes over low heat, gently stirring until warmed throughout.
Print Recipe
PRO Tip: Tieghan recommends using a Potato Ricer for ultra smooth mashed potatoes.
Prep Time: 5 mins
Cooking Time: 55 mins
Serves: 1-2
Print Recipe
Chef Michelle Morris is also a Denver food writer, photographer and blogger and has blogged her Herbed Hasselback Potatoes recipe following a trip to Italy tasting incredible olive oils.
Potatoes are really quick and easy to make. Here is her recipe:
Ingredients
1 medium russet potato
2 tablespoons minced fresh herbs (Rosemary and Thyme)
¼ cup extra virgin olive oil
Sea salt
Instructions
1. Cut the potato in slices nearly through, but not all the way through.
2. Place in an oven safe baking dish, and sprinkle with herbs, being sure to get a bit in between each potato slice.
3. Pour the olive oil over the potato (and into the cracks) and then sprinkle with salt.
4. Bake at 375 F until roasted through, about an hour.
5. Baste with the olive oil several times while the potato is baking.
Print Recipe
PRO Tips:
According to Michelle, the cutting technique (sliced, but not all the way through) exposes all of that potato surface to roast, so you get the texture and flavors like you would in roasted potatoes, but in a pretty presentation. Ideal for guests on Thanksgiving.
Prep Time: 15 mins
Serves: 4-6
Print Recipe
Denver based Meghan Yager is the creator of the Cake N Knife food blog. Her Bacon Cranberry shaved Brussels Sprouts Salad is easy to make and full of flavor and makes a great change from steamed Brussels Sprouts.
Ingredients
Citrus Dressing
1 Tbsp lemon juice
2 Tbsp orange juice
2 garlic cloves, minced
Pinch of cayenne pepper
1/2 cup olive oil
Salt and pepper
Shaved Brussels Sprouts Salad
2 dozen Brussels Sprouts, stems removed
4 slices bacon, cooked and chopped
2/3 cup dried cranberries
1/3 cup sliced almonds
1/3 cup grated parmesan cheese
Instructions
1. In a small bowl, add lemon juice, orange juice, garlic, and cayenne. Whisk together to combine. While whisking, slowly pour in olive oil in a steady stream to form an emulsion. Season with salt and pepper to taste. Set aside in the refrigerator.
2. Using a mandoline, shave brussels sprouts into thin slices to form a slaw texture. Rinse and dry once they've all been shaved.
3. Add shaved sprouts to a large serving bowl. Add bacon, cranberries, sliced almonds and grated parmesan cheese, tossing to combing. When ready to serve, toss with dressing.
4. Add almonds, cranberries, cheese, bacon and sprouts to a bowl, tossing to combine. When ready to serve, toss with the dressing.
Print Recipe
Prep Time: 10 mins
Cooking Time: 30 mins
Serves: 4
Print Recipe
With over 200K followers on Instagram, Bailey Sailor is a popular Denver food blogger. We love this recipe… the Brussels Sprouts come out creamy and tasty with the nut butter sauce.
Ingredients
1½ -2 lbs brussels sprouts
⅓ cup peanut butter
2 tbsp olive oil
½ cup dried cranberries
1 tbsp soy sauce optional
1 tbsp garlic powder
⅛ tsp salt
⅛ tsp pepper
⅓ cup crushed pecans
½ cup water to thin the sauce
Instructions
1. Preheat the oven to 400 F. Slice Brussels Sprouts into halves or quarters depending on how large they are.
2. Toss the brussels in a big bowl with 2 tbsp of olive oil and all of the seasonings (garlic powder, salt & pepper). Place a sheet of parchment paper on a cookie sheet and put in the oven for 40 minutes (toss regularly to ensure an even cook).
3. Mix together the nut butter, 1/2 cup of water and 1 tbsp soy sauce or aminos. You may need a pinch of salt to season the sauce but taste as you go. Water is used to thin the sauce and make it spread evenly.
4. Once Brussels Sprouts come out of the oven, add them to a large bowl. add the sauce, nuts, cranberries to them. Toss well and serve immediately.
Print Recipe
PRO Tips:
You can use any nut butter you choose.
Bailey recommends using Peanuts or Pecans in this recipe.
Prep Time: 30 mins
Cooking Time: 50 mins
Chill Time: 2 hours
Serves: 12
Print Recipe
Jamie, who created the blog, The Denver Housewife, has provided us with a Pumpkin Pie Cake (aka Pumpkin Pie Magic Cake) and could be your perfect dessert on Thanksgiving dinner.
Ingredients
For the crust
1 (15.25-ounce) package of yellow cake mix (reserve 1 cup)
1 egg
½ cup butter, melted
For the filling
2 ¼ cup 100% pure pumpkin puree
2 ½ teaspoons pumpkin pie spice
½ cup + 2 tablespoons brown sugar, packed
2 eggs
⅔ cup milk
For the crumb topping
1 cup yellow cake mix (reserved)
½ cup butter, cold
For serving (optional)
Whipped cream
Chopped pecans or walnuts
Instructions
1. Preheat the oven to 350°F. Grease a 9×13-inch pan and set aside.
2. For the crust, mix together with a wooden spoon the yellow cake mix (keep 1 cup reserved for later), egg, and melted butter. Once a dough is formed, evenly spread the dough with a metal spoon and press firmly into the bottom of the 9×13 pan.
3. For the filling, add the pumpkin puree, pumpkin pie spice, brown sugar, eggs, and milk into the bowl of a stand or hand mixer. Mix on low speed for 30 seconds, then mix on medium speed until well combined (1-2 minutes). Pour pumpkin filling on top of the crust layer and spread evenly.
4. For the crumb topping, first slice the cold butter into cubes. Add the 1 cup of reserved yellow cake mix and the sliced butter into a medium bowl. Using a pastry cutter or 2 knives, knead the butter with the cake mix until a crumb-like mixture forms (the butter should be in tiny pieces). Evenly sprinkle the crumb mixture on top of the pumpkin layer.
5. Bake for 50-55 minutes or until the crust becomes golden brown. Don't use a toothpick to test the doneness, since the pumpkin layer will still be wet.
6. Once baked, let the cake cool on the stove for 10 minutes, then transfer to a wire rack and continue cooling until it reaches room temperature.
7. Cover and let chill in the refrigerator for at least 1 hour before serving. Top with whipped cream and chopped pecans/walnuts, if desired.
Print Recipe
PRO Tip: According to Jaime, this cake can be saved for 2-3 days. If the cake is left in the refrigerator overnight while covered with plastic wrap or tinfoil, it may cause condensation and the crust can become soggy. Jaime recommends covering the cake and leaving it on the counter at room temperature, then chill 1-2 hours before serving.
Prep Time: 1 hour
Cooking Time: 1.5 hours
Chill Time: 2 hours
Serves: 12
Lindsie Zagiba, blogged a Sweet Potato Pie recipe at the Mile High Mamas parenting website and it became their website's most popular recipe. The pie is delicious and easy to make and looks great too. Here is the recipe:
Ingredients
For the Crust
1 1/4 cups all-purpose flour
1 1/2 tbsp white sugar
1 tsp salt
1/2 cup (1 stick) unsalted butter, cut into cubes
1 tsp vanilla bean paste (or vanilla extract)
1 1/2 tbsp ice water
1 tsp fresh lemon juice (or white vinegar)
1 egg yolk
For the Pie
2 cups pureed sweet potatoes
1 cup white sugar
1 cup brown sugar
1 small box instant vanilla pudding
1 cup evaporated milk
3 eggs
1 tsp salt
1/4 cup softened butter
1 tsp cinnamon (or pumpkin pie spice)
2 tsp vanilla bean paste (or extract)
Instructions
Cut your butter, and place it in a bowl, and place the bowl in the freezer the night before you make your pie dough for the best results.
1. Start making your dough by sifting sugar, flour and salt into a large bowl.
2. Add butter to the bowl, and with your hands or a pastry cutter, cut butter into flour until it resembles small peas.
3. In a separate bowl, mix egg yolk, vanilla, water and vinegar and add to flour and butter.
4. Using a wooden spoon, mix dough until it just starts to hold.
5. Transfer to a lightly floured surface and knead until the dough just holds together. You'll see bits of butter, and it might look a little crumbly, but that is okay.
6. Press the dough into a disc, and wrap in plastic wrap. Place in the fridge for at least 30 minutes before rolling out. (This will help the butter get nice and cold again, and allow the gluten to do its thing, and will make sure that when you bake it, the dough is nice and flaky).
7. To make your pie, roast sweet potatoes in the oven at 400 degrees for 30-40 minutes. Take them out, let them cool, and remove the skins. (You can do this the night before)
8. Turn down the oven to 375 F degrees.
9. Puree sweet potatoes in a food processor until smooth and lump-free.
10. Mix eggs, evaporated milk and sugars in a bowl with a whisk.
11. Whisk in butter. You'll see pieces of butter now in the filling, but that's okay.
12. Whisk in the vanilla pudding, salt and cinnamon
13. Whisk in pureed sweet potatoes.
14. Roll out pie dough on a lightly floured surface, and press into a pie plate. Poke holes in the bottom with a fork, and place it in the freezer for 10 minutes.
15. Pour pie filling into prepared pie dough and bake for 50-60 minutes or until set and firm in the middle.
16. Let cool to room temperature and serve with whipped cream