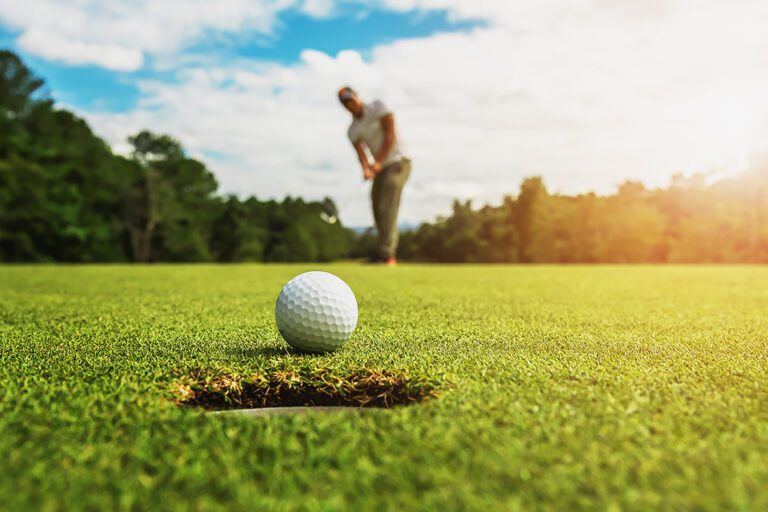 Golf is the perfect way to be outside in Denver's spectacular weather, especially for those who don't want to take a strenuous hike up a 14er on the weekend. The city features both public and private clubs, with many of the public options featuring amenities such as pro shops, restaurants, and even repair facilities. Whether you're brand new to golf or you're looking to hone your skills at 5,280 feet — Denver has you covered with a course nearby that has a tee time with your name on it.
Where? 13300 Riverdale Road
Riverdale Golf Club hosts two nearby Brighton public courses that feature 36 holes maintained to the high standards of comparable private clubs. Both Riverdale Dunes and The Knolls are premier courses that have been a destination within the state of Colorado since the mid-80s. The club has been designed after the renowned courses in Scotland and Ireland, including mounds, water hazards, and signature railroad ties that have been strategically placed to enhance the playing experience. Prices vary between courses, with The Dunes charging $27 for 9 holes and $44 for 18 holes and the Knolls charging $20 and $30, respectively. Weekend rates see a price increase, to meet the higher demand.
Cart rentals are available at each course, as well as punch cards. The cards can be used to receive discounted play throughout the season. Riverdale keeps instructors on staff for adults or juniors who want to get into golf or simply work on skills to improve their current game. Lessons can be purchased in a series of five or individually, with options for individual instruction or semi-private lessons.
PRO Tip: At this time, Riverdale Golf Club is only doing online tee times. To book a reservation, players should head to their website 8 days in advance, beginning at midnight. There is a 24-hour cancellation policy in effect.
Where? 10300 East Golfers Way
The CommonGround Golf Course is owned by the Colorado Golf Association (CGA) and was designed by Tom Doak, a world-renowned course architect. The property is located approximately 10 minutes from Cherry Creek. Members of the CGA receive discounted rates and other perks, such as the ability to purchase an annual pass and punch cards. Daily fees for non-members will run approximately $77 for the 18-hole course and $40 for 9 holes. CommonGround provides discounts for juniors, military, seniors, and twilight games. CommonGround provides tee time reservations up to 90 days in advance with a $20 advanced booking fee.
The course offers a variety of instruction programs, including private, semi-private, and group options. League play is encouraged, with a co-ed partner league held on Friday evenings from May through early September. The course also has a senior league for men over the age of 60 and a women's club that plays on select Tuesdays from the end of April through October. Aside from sanctioned programs, the CommonGround course also strives to stay actively involved in community organizations such as the Ronald McDonald House, the Special Olympics, and the PGA's school initiative.
PRO Tip: When golfing at CommonGround, the course has an established code of conduct and a dress code. Men must wear a collared golf shirt and improperly dressed individuals will be asked to change before beginning their game.
Where? 1414 Castle Pines Parkway
The Ridge at Castle Pines is located conveniently just south of Denver. Players will experience spacious fairways and classic rolling greens. The course has been publicly recognized by Golf Magazine, Golf Advisor, and Golf Digest as one of the Centennial State's top courses. The Ridge at Castle Pines is proud to offer premium club rentals, such as the Odyssey Putter, the Callaway Epic Flash Driver, and Mavrik Irons. Rentals run $60+ for an 18-hole game. Those who opt to make The Ridge their main course during the season may want to invest in the pass holder program, making them eligible for advanced tee time options and a discounted guest rate.
Inevitably, you'll be hungry after a few hours of playing golf. Head on over to Park Place at the Ridge for a bite to eat off of their shared plates menu or grab a salad and a sandwich for the road. Wine and cocktails are available for players that are of age. The Ridge also hosts catering events and rehearsal dinners.
PRO Tip: The Ridge offers private lessons, which include a skill evaluation and practice routines that are intended to improve each player and enhance their overall experience on the course. During the summer months, there are various junior golf camp sessions as well.
Where? 13410 West Morrison Road
Fox Hollow Golf Course is called "home" by many local golfers in Colorado, with its easy approachability and welcoming staff. There are three nine-hole configurations, featuring 27 championship holes. The golf course is open to local Lakewood residents, as well as those visiting the area. Fees vary slightly, with residents paying between $27 to $54 for 9 holes or 18 holes, respectively, and non-residents paying $31 to $61. Seniors and juniors receive sizable discounts. The course rents out push cars, clubs, and golf carts, as well as time at the driving range.
The course has a restaurant on site, which is the perfect spot to enjoy a beer or simply relax on the patio, soaking in the Colorado weather, and digging into a green chili burger. The Den at Fox Hollow is a casual eatery, serving breakfast, lunch, and dinner. Visit the fully stocked pro shop before or after your round, as well as the clubhouse and the additional amenities this award-winning course has to offer. Golfers should plan to arrive approximately 20 minutes before their tee time and will be called through the PA system.
PRO Tip: Tee times are available to be reserved beginning 7 days in advance, beginning at 5 PM. These can be made online by residents or non-residents and will require prepayment by credit card.
Where? 3333 South Colorado Boulevard
Those seeking out a private country club atmosphere that's open to the public and at an affordable price will find just that at Wellshire Golf Course. The facility was designed by Donald Ross in 1926 and features mature trees throughout the landscape. The course features 18 holes, a driving range, and a putting green. The course amenities include a pro shop, a golfer's pub, banquet rooms, and the Wellshire Inn Events Center. Rates are set by a dynamic pricing model, which allows the course to provide a flexible fee structure that accounts for the constantly changing variables and provides a competitive edge. Generally, the rate for the 18-hole course runs between $30-$37 on weekdays, with discounts for seniors and juniors. Wellshire Golf Course is known as being a challenging play for golfers, ranging from beginner, intermediate, and experienced players.
Wellshire offers adult lessons, with private options, groups of two to four people, and even a series of multiple private or semi-private lessons with a qualified staff member. Families can purchase a family fun pass for $175 for the 2024 season beginning as early as November 2023. The pass includes 20 nine-hole par three rounds and 30 rounds of mini golf or small range buckets.
PRO Tip: Tee time reservations go online 14 days in advance for loyalty pass holders and a week in advance for standard public access.
Where? 10850 Sundown Trail
Arrowhead is nestled into the beautiful landscape of Colorado's iconic Rocky Mountains in Littleton. The championship course features a variety of amenities and popular event spaces that are commonly booked for weddings. The course is open to the public seven days a week for golf and special events and golfers will enjoy catching glimpses of the many wildlife creatures that call the area home, as well as the majestic towering red sandstone rocks that make for a breathtaking backdrop to a day on the green. It's no wonder that this course has been rated as one of Denver's best public golf courses and even in the top 75 public courses in America by Golf Digest.
The many instructional programs offered at the course include options for beginners and those who want to improve on more strategic skills. The courses are led by top PGA teaching professionals and include private, group, clinics, and even women-only options. There is also a comprehensive program for juniors between the ages of 5 and 17. There are rental clubs available for $75, including two sleeves of balls with each rental.
PRO Tip: In an effort to provide everybody with an enjoyable experience, Arrowhead Golf Course recommends that each round is played in no more than 4 hours and 40 minutes. This pace of play is managed by staff to ensure that groups are rotating smoothly.
Where? 3181 East 23rd Avenue
City Park's municipal golf course features 18 holes and a traditional style layout. The course is located a quick five minutes from downtown Denver, across the street from the city zoo and the Museum of Natural History. The sloping greens and tight fairways make the course seem more difficult than it actually is, though it also provides a uniquely fun challenge for experienced golfers. Not only does the course provide striking views of the Rocky Mountains, but a view of the city skyline is also visible and makes for a perfect Colorado vantage point. Despite being a public course, the property features some of the favorite amenities found in private clubs such as a pro shop, a restaurant, and even a repair shop.
Players can expect a cart to run $21 for 18 holes per person, with a $4 additional charge for a single rider. Rental clubs are available for $25 for 18 holes and the driving range features 25 stations with a grass landing area. The onsite restaurant, City Park Tavern, serves breakfast, lunch, and dinner and is open from 6 AM to 9 PM.
PRO Tip: Players will notice that City Park Golf Course operates on a dynamic pricing structure, similar to the system used by airlines, concerts, and even Rockies tickets. This fluctuating price model gives guests the chance to snag the best rate based on several factors such as demand and time of day.
Where? 3050 Illinois Street
Fossil Trace Golf Club is located in nearby Golden, nestled into the foothills of the Rocky Mountains. The club is a quick 20-minute drive from Denver and is considered one of the area's premier courses to play on. Despite the proximity to the urban environment, the course has a truly Colorado feel to it with beautiful views all around. One of the course's truly unique inclusions are the triceratops footprints, as well as fossils that can be viewed on the 12th green. Mixing both prehistoric and modern characteristics, the course has been dubbed one of the most fun in America.
The public is welcome to book a tee time and pay the daily fee to play the course. There is also limited availability for private and corporate golf events. Bookings made at least 8 days in advance are considered preferred, with rates being adjusted in real-time based on demand and availability of time slots. Weekday rates during the morning are expected to run between $115-$135, with junior and senior discounted rates being available on select weekdays. All rates include a green fee, a premium cart, GPS, and range balls.
PRO Tip: Advanced reservations must be made online, with same-day tee times having an online option as well as one to be made by telephone via the Fossil Trace Golf Shop. There is a cancellation policy in effect to avoid no-show charges.