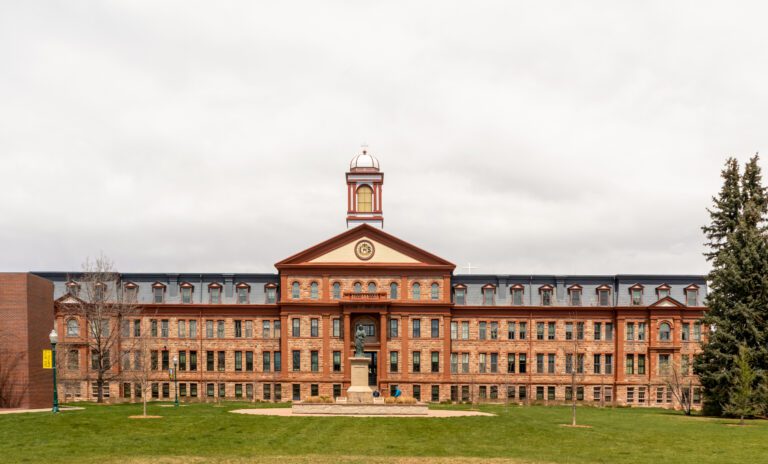 Denver's Regis shares its name with Regis University, which is located within the confines of this rectangular neighborhood's borders. The area is also known for its public Willis Case Golf Course, which attracts many Denverites who are seeking an 18-hole course. The neighborhood has multiple eateries, shops, and even a classic nightlife offering in the form of a brewery, tavern, and dive bar.
The Best Coffee Near Regis
The coffee scene in Regis is robust, designed to keep busy college students fueled through long hours of studying and cramming for an upcoming exam. The coffee shops are well appointed for working remotely or simply chatting over a plate of pastries and catching up with good friends.
4965 Federal Boulevard
Winchell's is proud to use fresh and locally sourced ingredients, which helps to put them at the forefront of Denver's donut and breakfast scene. Coffee is the natural pairing to the fried delight and Winchell's has freshly brewed pots, as well as French vanilla cappuccinos, mocha caramel iced coffees, and a range of customization options. Breakfast boxes include an egg and cheese sandwich with a bag of chips and a regular donut as well as a bagel with cream cheese, a bag of chips, and a fancy donut. Whatever sweet treat you're craving, Winchell's has it on deck.
4418 Tennyson Street
Tenn Street Coffee takes its inspiration from the European cafe scene, where conversation is designed to bloom around inspirational cups of coffee. The shop is designed to be comfortable enough to kick up your feet and relax for a while. The coffee offering includes lattes, cappuccinos, americanos, drip, and cold brew. If you're in the mood for a more decadent coffee, order a frappe. Loose-leaf tea variations are available, as well as matcha and chai. Those who want to sip on an uncaffeinated beverage can opt for an Italian soda, lemonade, or even sparkling water. Grab a bite while you're ordering, if you can choose from the tasty selection of croissants, muffins, scones, and even pumpkin bread and cinnamon rolls. If you're in the mood for something with more of a kick, Tenn Street has an IPA with your name on it.
4999 West 44th Avenue
Devil's Cup is known for its relaxing vibe, with ample indoor and outdoor seating. Good coffee is made better by good service and Devil's Cup ensures that customers are greeted with a smile and served professionally to ensure their loyal customer base returns morning after morning. There is a cold brew on tap and plenty of pastries to choose from. Tea drinkers can opt for a canned tea or even try a kombucha. There's something for everyone at this quaint Denver shop. Street parking is available and is offered on a first-come, first-served basis.
Where to Eat & Drink in Regis
Regis is a melting pot of flavors, ranging from tasty Italian staples at Brooklyn's Finest Pizza to breakfast classics at McCoy's. If you want to try something new, head over to Dubbel Dutch and sample some Dutch sandwiches and pick up a few unique grocery items to try at home.
4855 Federal Boulevard
McCoy's is a favorite amongst Denver breakfast enthusiasts, especially when it comes to their traditional favorites such as 2 eggs with your choice of bacon, German sausage, center-cut pork chop, or even chicken fried steak and gravy. Omelets are cooked with three eggs, which should keep most people powering through their morning and afternoon until it's lunchtime. Specialty breakfast options include the Rocky Mountain steak skillet, the Colorado skillet, and the eggs Benedict Florentine. McCoy's is excited to serve you 24 hours a day, 7 days a week. The restaurant is chef-owned and operated and provides an ample offering of cocktails as well, all in a casual diner-style ambiance that's sure to have you reminiscing on the good times.
5007 Lowell Boulevard
Brooklyn's Finest serves authentic Brooklyn-style pies and strives to bring the rich flavors of this New York borough to Denver, Colorado. The dough is made freshly each day and baked in a brick oven until it gets perfectly golden brown and crispy. Aside from the popular pizza options, Brooklyn's Finest also makes calzones, pasta, and Strombolis. Whatever your favorite classic Italian dish, you're sure to find it on the menu here. Happy hour runs each day from 3 PM to 6 PM, with an additional time slot between 9 PM and 11 PM on Fridays and Saturdays. The establishment has over 35 different bottled beers, which is sure to delight any Colorado brewery enthusiast. Other cocktails include a vodka mule, Long Island iced tea, and a rum mint mojito.
4974 Lowell Boulevard
Dubbel Dutch is proud to be considered a Denver staple since opening in The Mile High City in 2003. Proudly offering "Denver's Best Sandwich," the joint also serves salads, lattes, cheeses, and naturally — a selection of Dutch grocery staples. You don't have to be a Dutch transplant to visit either. Anybody can sample the unique flavors and exciting new products found at Dubbel Dutch and you may even pick up a few words in a new language while you're there! Sandwiches include the Touch of Italy, with pesto, brie, salami, fresh tomato, and a spring mix and the new Palermo with prosciutto, goat cheese, sun-dried tomatoes, walnuts, and a drizzle of honey for sweetness. If you'd prefer a hot sandwich, the Burgundy panini is a hit and includes Gouda, mustard, salami, pepperoni, and a slather of mayonnaise.
Can't-Miss Shops in Regis
Regis hosts a handful of unique shops, such as the Things That Glow store that sells everything and anything glow-in-the-dark and reflective, as well as Treasures Outlet. Both stores help shape the fun personality of the Regis neighborhood and invite residents to find new and exciting items for their homes.
5275 West 48th Avenue
Things That Glow has been lighting up Colorado for over two decades. The shop sells a huge variety of unique lighting solutions, such as poi, glow sticks, rave lights, and more. Their glow-in-the-dark tape is fun at parties and their 135-piece glow-in-the-dark stick-on stars can transform any kid's bedroom into a space-themed hideaway. Kaleidoscopes, galaxy-themed hydration backpacks, and light-up misting fans are also kept in stock. Whatever your needs are for an upcoming party, celebration, or simply unique home decor — Things That Glow should be perused at least once when you find yourself in the Regis neighborhood.
4949 Lowell Boulevard
Treasures Outlet has a collection of antique and vintage goods that would excite any avid treasure hunter. The shop handpicks each of its items, including furnishings, to ensure consistent quality across the board. If you're in search of camera gear, fine china, accessories, or even vintage reading material — Treasures Outlet has something waiting to be discovered. New arrivals include Star Wars movie posters and vintage perfume bottles. At times, Treasures Outlet will host storewide sales, such as 25%-40% off discounts on anything in the store (excluding currency). If you're looking to add a few nostalgic touches to your home, this is the time to shop!
The Nightlife Scene Around Regis
If you're looking to create memories over a few pitchers of beers with your buddies or enjoy a competitive game of trivia at a local woman-owned brewery, there are a multitude of options when it comes to nightlife in Denver's Regis neighborhood.
5395 West 48th Avenue
The Squeeze has been a Denver landmark since the late 1940s. Holding the title as one of the best dive bars in the city, The Squeeze's cozy ambiance and enduring charm help to keep it chugging along decade after decade. The Squeeze Inn began as a local burger joint before inevitably replacing burgers and fries with cold beers and cocktails. Most evenings, the bar stays open until midnight or later, allowing you to keep the good times rolling into the morning hours. On warm weekends, you may even find local car owners showing off their rides and food trucks setting up shop for dinner service. Despite being closed for over a year, the dive bar successfully reopened and continues to host Denverites and Regis residents of all walks of life, from firefighters, bikers, and 20-30 year olds looking to get a taste of old Denver.
4907 Lowell Boulevard
Rocky Top Tavern has been around since 2014, serving up quesadillas, PBRs, pitchers, and even mimosas and fish and chips! The eclectic tavern has a menu fit to feed hungry college kids and weekly specials that help out the wallet. Whether you're in the mood for a Baja burger with pepper jack cheese, bacon, and avocado or a smothered burrito with green chili served with French fries — Rocky Top Tavern can cure a hangover or give you one if you're looking to spend the evening celebrating finals being over. Cocktails include a barrel-aged Manhattan, a Ruby Coco Press with Deep Eddy grapefruit vodka and Malibu rum, and a Rocky Mountain mule with Tito's and ginger beer. The bar remains open until 2 AM for those who want to stay out late and close it down.
4970 Lowell Boulevard
This woman-owned brewery is situated in Northwest Denver and strives to provide inclusivity and safety for every member of the community. The range of rotating taps is all brewed in-house, showcasing a diverse range of flavors and styles that are sure to intrigue any avid beer drinker in the city. There is local artwork adorning the walls, as well as events that showcase local musicians, poets, and artists of all kinds. Trivia is hosted every Thursday evening and the brewery recommends arriving early to guarantee a seat at this popular community event. The current tap list includes a pineapple-forward hazy IPA, a sour made with watermelon and strawberry, a zesty lime Mexican lager, and a Colombiana coffee stout using coffee from Huckleberry Roasters.
Outdoor Spaces in Regis
Regis has a city golf course with beautiful views, as well as one of Denver's favorite neighborhood parks — Inspiration Point. Families can enjoy a leisurely walk along a loop trail or simply enjoy the sunset and mountain views.
4901 Sheridan Boulevard
Inspiration Point Park was first introduced as a vista lookout to view the city of Denver as it began to grow in the early 1900s. The 25 acres are situated on a bluff that overlooks the Clear Creek Valley with picnic areas that are naturally shaded and a large meadow area that features a diverse array of native greenery. The park provides the perfect retreat to feel as if you've escaped the city for a couple of hours and provides gorgeous mountain views and miles of scenery that are especially stunning at sunset. There is a 0.8-mile concrete loop trail that's perfect for families with strollers, as well as more rocky terrain amongst the nearby hills.
4999 Vrain Street
Willis Case Golf Course features panoramic views of the nearby Rockies, as well as mature trees that provide natural shade during the heat of the day. The sloping fairways are a joy to play on, as well as several holes that require golfers to challenge themselves. After you've finished your game, grab a bite to eat and relax on the patio. The course has a pro shop, a putting green, and even a junior course in addition to the 18-hole regulation course.
Places of Interest in Regis
Regis University is a natural point of interest, as it shares a name with this Denver neighborhood. The school's campus is a focal point of the neighborhood and provides enrollment to both in-state and out-of-state students and professors.
3333 Regis Boulevard
Regis University is a small, private Jesuit university with an average enrollment of under 2,000 students. The school offers more than 120 degree plans across its five colleges, including education, business, technology, nursing, and liberal arts. Students benefit from the small, tight-knit community that allows them to develop personal relationships with professors, classmates, and support staff on campus.
Want to Learn More About Living in Denver's Regis?
Our team at RE/MAX Professionals is here to show you all that the Regis neighborhood has to offer. Whether you're a young family, a single professional, or even a Regis University professor looking to move closer to work, we can introduce you to what's on the market and help get you into a home you love.