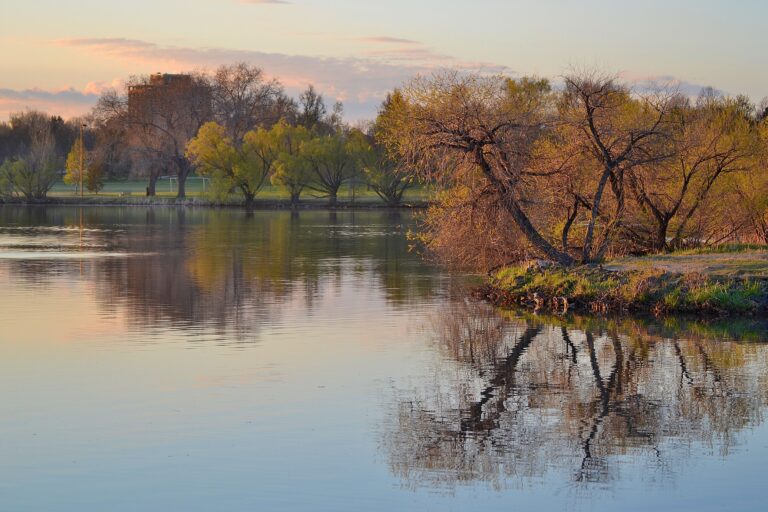 Located near the western border of Denver, Sloan Lake is home to the city's second-largest park and also holds the title of the Mile High City's largest body of water. The surrounding streets are mainly residential, with a beautiful blend of architectural styles that range from brick bungalows from the 1920s to new build apartments and townhomes. As the area's popularity has continued to rise, so too have the number of amenities.
Life in Sloan Lake provides convenient access to outdoor recreation just down the street, as well as an easy commute to downtown. You'll also be a quick hop from the highways that can take you to the mountains for a revitalizing weekend away from city life.
The Best Coffee Near Sloan Lake
It's difficult to not judge a neighborhood by its local coffee shops. Sloan Lake may only have a few local options but they're serving up high-quality cups of coffee for anybody on the go. If you work remotely, you may even want to pull up a chair and hang out for a while.
4436 West 29th Avenue
SloHi Coffee Company is serving locally roasted coffee from Denver favorites such as Huckleberry, Novo, Pablo's, and Copper Door. This half coffee shop, half bike shop shares space and brings together Denver bike culture and coffee shop vibes. The shop carries seasonal drinks, including the lavender latte and The Bees Knees, which is a turmeric latte with wildflower honey and oat milk. To fill out their offering, SloHi Coffee Co. also carries Ruby's Burritos, Berkeley Donuts, and Organic Bliss baked goods.
3000 West 23rd Avenue
Petunia Bakeshop is popular for its range of tasty, fresh-baked pastries and to die for dessert offerings. Pair your almond croissant with a flat white or treat yourself to a Nutella cruffin and a dirty horchata. Petunia Bakeshop also serves up unique variations for your to-go morning cup of caffeine, such as the Abuelita Mocha that's mixed with Mexican hot chocolate and espresso. The bakeshop hasn't forgotten about their gluten-free neighbors, either. There are muffins, brownies, and even a lemon loaf that have been carefully mixed and baked to be safe for those with a gluten intolerance. 
Where to Eat & Drink in Sloan Lake
While the total number of eateries located within the boundaries of the Sloan Lake neighborhood may be few, they make up for it in their high quality ingredients and welcoming ambiance.
2505 Federal Boulevard
Santiago's is so popular that they have multiple locations throughout Denver. The budget-friendly Mexican food joint has been serving authentic south of the border plates for years. Guests can count on the ingredients being fresh and their orders being consistent, as well as the pleasant family-friendly atmosphere found within the restaurant. Some of the popular menu items include huevos rancheros, smothered burritos, the chile relleno plate, and street tacos with your choice of barbacoa, beef, or chicken.
4032 West 17th Avenue
The Patio at Sloans is one of the best places to enjoy a meal with a view of the lake. The second option is, of course, packing a picnic for yourself but sometimes it's easier to let somebody else do the cooking. The patio space is heated during the winter, making it a pleasant atmosphere year-round. During happy hour, drinks are discounted and small bites and snacks such as fried pickles and chips & queso are offered. Pet lovers will enjoy the "Bark Bowl" on the menu, which is made from bone broth, chicken, and sweet potato — all of your pup's favorite things.
4432 West 29th Avenue
Leroy's Bagels has been a neighborhood staple in the SloHi area for years, serving up freshly baked bagels that are made in-store daily. With 16 flavors to choose from, including gluten-free options, it'll keep you coming back for more. Leroy's philosophy is simple, good food doesn't have to be complicated. Customers are invited to mix and match bagels, spreads, and toppings to find new and exciting creations.
5126 West 29th Avenue
Rise & Shine was opened in Denver back in January of 2010 and ever since, has laid claim to selling the best biscuits in town. The southern forward menu focuses on, of course, biscuits! The Charlotte is served with bacon, lettuce, tomato, and mayo and the Chapel Hill is a good old-fashioned chicken biscuit. Try the biscuit of the day, which can be either sweet or savory, before they sell out. Dogs are unfortunately not allowed on the patio or in line to order.
1565 North Raleigh Street #100
Tap & Burger is the ideal spot to watch the game or enjoy brunch on the open patio. The community-based business strives to provide exceptional customer service and everything on the menu is thoughtfully prepared in-house. Many of the ingredients are sourced from local farmers, in an effort to support the surrounding Colorado community. The signature burgers are must-tries, as well as the baby back ribs, wings, and sandwiches. The beverage menu is extensive, including numerous options for craft beer enthusiasts and signature cocktails such as the Funky Cold Banana and The Modern Savage.
Can't-Miss Shops in Sloan Lake
While Sloan Lake may not be considered the shopping destination in Denver, there are a handful of quirky, fun, and hard-working local businesses that call Sloan Lake home.
3824 West 23rd Avenue
Planted is a quaint corner shop selling a range of succulents, blooming plants, and air plants. The business offers repotting services for homes and offices, as well as Denver area deliveries. The owner, Luke Hess, has a passion for landscape and nature and his full-service plant shop is a testament to that. The custom wood frames, backdrops, and containers are all of his creations using reclaimed wood.
4434 West 29th Avenue
This inclusive and family-friendly bike shop is everything that Denver stands for. Bikes can be a means of adventure and exploration but they also hold utility as an individual's daily mode of transportation. The shop welcomes everybody, regardless of skill level. They carry mountain bikes, electric bikes, cargo bikes, and gravel bikes, as well as options for the kiddos. SloHi Bike Co. also offers full-service bicycle repair via their professional mechanics. Most minor adjustments and flats can be fixed within a day, with larger tuneups requiring between 2-7 days.
The Nightlife Scene Around Sloan Lake
Sloan Lake isn't necessarily where people flock to go bar hopping or dance the night away at the clubs. However, the neighborhood has a handful of nightlife adjacent activities that can fill your evenings with a good time.
4255 West Colfax Avenue
The Alamo Drafthouse Cinema is one of the best venues to enjoy a movie, whether you're team Barbie or team Oppenheimer — it doesn't matter. With 4K digital projection, there's no bad seat in any of the auditoriums. Food and drinks are delivered to your seat, with the on-site theater bar, BarFly, serving up curated craft cocktails and 32 local and regional beers. The venue was opened in 2017 and has been a massive hit in the neighborhood ever since. Matinees are $2 off and all guests under the age of 18 must be accompanied by an adult.
4460 West 29th Avenue
Hogshead Brewery is the only brewery in the neighborhood, making them a popular option for after-work drinks. Specializing in cask-conditioned ales, guests will have their choice of any number of unique brews on the menu. The brewery is open until 10 on the weekends, leaving enough time to get back home for a solid night of rest before you hit the lake in the morning. Upcoming events include the Cask Fest and Chili Cook-Off in November.
Sloan Lake's Outdoor Spaces
It should come as no surprise that Sloan's Lake is the centerpiece of the aptly named neighborhood. This large urban green space and 177-acre lake provide plenty of recreational opportunities for those who live nearby.
Sloan's Lake Park
1700 Sheridan Boulevard
Sloan's Lake Park is the pride and joy of the Sloan Lake neighborhood. The 290-acre park is a great place to enjoy a picnic or grill up a barbecue lunch for the family. During the summer months, jet skiing is a popular pastime on the water. The 1.6-mile Sloan Lake Park Trail surrounds the park and is handicap accessible. There are multiple parking lots surrounding the lake, so even during peak hours, parking is generally not too much of a hassle. The lake is the best place in the neighborhood to spot wildlife, including seagulls, Mallard ducks, pelicans, and Canadian geese.
Hallack Park
3398 West 20th Avenue
Hallack Park is considered a small urban park, especially when compared to nearby Sloan's Lake Park. However, it's still a solid option for a quick stroll with the pup or a playground hang with the kids. There is a large field that's suitable for pickup sports games, as well as two playgrounds — one geared towards younger kids. If you don't feel like dealing with the crowds at Sloan's Lake Park on the weekend, Hallack Park is just down the road.
Sloan's Lake Park Playground North
4410 West 26th Avenue
Located on the northern end of Sloan's Lake Park, this playground is surrounded by trees and conveniently situated next to the indoor bathrooms. There is a bike and walking path surrounding the area, making this a great spot to spend the afternoon. If you don't feel like bringing the bikes out, the kids will enjoy themselves on the play equipment while parents can sit under a tree and relax with a picnic. The playground can get busy, especially on beautiful summer weekends. Due to the proximity to the water, mosquitos can be pesky and bug spray is recommended.
Sloan Lake's Places of Interest
Just because the Sloan Lake neighborhood is on the smaller side, doesn't mean that there aren't exciting places to visit and fun events to attend. In fact, each year Sloan Lake hosts one of the most popular festivals in the city!
Sloan's Lake Park
The Colorado Dragon Boat Festival is the largest dragon boat race in the United States. The annual two-day festival is held each summer at Sloan's Lake in July. Attendees will enjoy watching dozens of intricately designed dragon boats race across the lake. There is live music and dancing, as well as a Taste of Asia food court and a range of family-friendly entertainment. Attendance is always free, though no parking is available on-site. Recent years have hosted well over 150,000 attendees, with nearly 200 vendors and performers. The event first debuted in 2001 and has since grown each year as more Denverites join in on the fun of celebrating Asian and Asian American heritage.
1921 Federal Boulevard
Rocky Mountain Athletics is a well-loved Sloan Lake area gym. There are several coaches who are eager to help their trainees achieve their goals and build healthy habits inside and outside of the gym. While exercise and getting your heart rate up are important, so are proper nutrition, recovery, and a healthy sleep schedule. The gym is open every day of the week and visitors are welcome to sign up for a drop-in class or schedule an intro if they're considering becoming a member. The PeakFit group classes provide the best of both worlds, a fun workout with friends and attentive coaches who can provide pointers and helpful insight into the workout.
Want to Learn More About Living in Denver's Sloan Lake?
If living life by the lake sounds like a little slice of heaven, our team at RE/MAX Professionals would be happy to introduce you to what's on the market currently. Those who aren't quite sold on the Sloan Lake neighborhood may change their mind after a visit to the area but if not, we'd be happy to give you the lowdown on other Denver neighborhoods that are compatible with your life, family, and future goals.