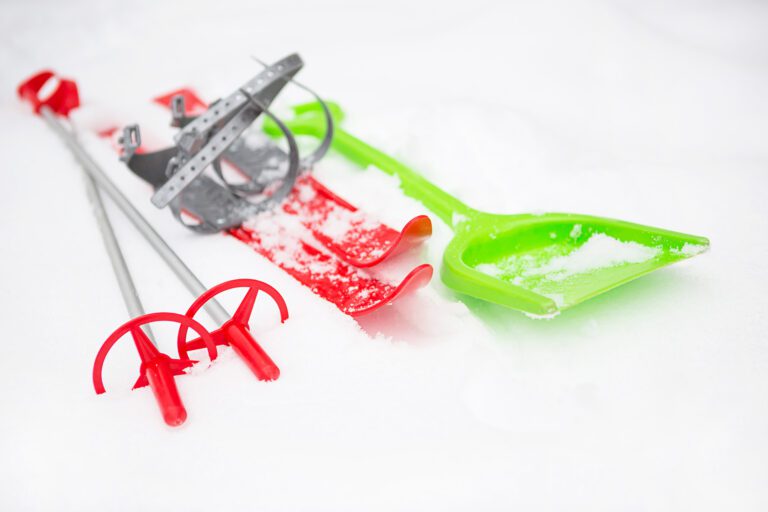 We hope you had an amazing Halloween with the kiddos… and now Denver's winter season is almost upon us. The snow and bright days make Denver's winter a unique and beautiful time of year. People travel from all around to Colorado's mountains, for skiing and other Winter activities. But what if you have kids and want to stay in and around the Denver area? Well then, you're in luck… Denver has lots of kids activities on offer, both indoors and outdoors and there is no better time to start planning your family's winter activities. To help you get started, our team has put together a list of awesome things to do with your kids this winter.
PRO Tip: Download the Denver Playgrounds & Parks app for a great way to learn about more than 700 parks searchable by feature and location.

9 Activities for Kids this Winter in the Denver Metro Area
The Art Garage provides both toddlers and children with arts-based programs. Toddlers can experiment with a range of visual art supplies in a welcoming and secure setting. Each lesson centers on baby-friendly art supplies while also promoting the growth of your child's fine motor abilities. Each lesson lasts 45 minutes and includes a structured art work.
There are numerous options for art classes available for children. They even offer camps at certain times of the year whereby the kids get a 4-5 day learning experience. Check out the available classes and courses on their website.
PRO Tip: They also offer birthday parties for your kids. The Art Garage can provide: a Story, art project, art instructor, fun party assistant, all art materials and decorated board with guest of honor's name.
The Butterfly Pavilion, which is approximately 15 minutes from downtown Denver, is viewed by many tourists as something out of a fairytale. Particularly the huge atrium, children adore seeing the many different kinds of butterflies and the fascinating way they fly. Some children find it to be their favorite winter activity because the contrast between the warm atrium and the chilly outside air is so wonderful.
Additionally, there is a children's play area, an aquarium section, an insect section, and a gift shop. A wonderful family outing that nature lovers also enjoy because of the variety of plants and flowers in the atrium.
The Butterfly Pavilion takes great pride in being the only zoo of its sort accredited by the Association of Zoos and Aquariums that is invertebrate-focused.
Pricing:
$14.50 per adult
$9.50 kids (2-12)
$12.50 seniors (65+)
Kids under 2 go free
PRO Tips:
They frequently host exhibitions, so be sure to check their website for information.
The Butterfly Pavilion offers birthday parties with a 2 hour room rental and access to interactive exhibits.
If your teenagers are like ours, it is tough to keep up with each new social media network they use and even tougher to take their attention away from their phones. The saying goes, "If you can't beat them, join them" and as such, why not bring them to this fascinating, one-of-a-kind museum. The Denver Selfie Museum is actually a photography studio where your kids can utilize professional lighting, backdrops, and settings to capture the perfect images and videos with their phone (or camera).
20 distinct and eye-catching Instagram stations are available for your youngsters to select from. All your kids will need to do is charge their phone and bring it with them for their booked hour of fun. They can immediately fill their Instagram with unique selfies and reels.
PRO Tips:
We recommend you book online due to restrictions on the number of people per hour.
Tickets are $25 per person on weekdays and $29 on the weekend.
Parking may be difficult in the area.
The Downtown Aquarium makes for an entertaining and educational day with incredible photo opportunities. According to studies, watching aquariums lowers heart rate and muscle tension while also reducing stress and anxiety, increasing feelings of calm. Most likely one of the many factors why so many of us enjoy a day out at the aquarium.
More than a million gallons of underwater exhibits and over 500 different species of creatures are housed in the Denver Downtown Aquarium. Your kids will adore the lights, the many fish species, and the enormous turtles that can be seen in the aquarium's several rooms. You can even buy an experience gift for your kids to swim in the tank with the fish. There is also a 4D theater, aquatic carousel, a restaurant, a gift shop and more!
Pricing:
$24.99 for adults (12-64)
$23.99 for seniors (65+)
$18.99 for kids (3-11)
Kids 2 and under are free
PRO Tips:
Parking is available at the lot located across the street from the building. This lot takes credit cards and cash. Parking is $8 for self-parking. The restaurant will validate your parking pass if you dine in the restaurant after 6pm. Please bring your parking card into the restaurant with you.

Check out their calendar of events for more information.
Ice skating is a great way to help keep your kids physically fit and appreciate an active lifestyle while having fun.
The ice rink in Downtown Denver is awesome. It's located right off the 16th Street Mall, in the center of downtown. It hosted over 40,000 skaters last year and is opening for another winter season on November 21st. For dates, costs, and other details, visit the Downtown Denver Ice Rink website.
Many reviews rate this rink as exceptional because of its quality surface and staff, who work hard to keep children safe and having fun.
PRO Tips:
4th graders get to skate for free.
My Denver Card holders get to skate for free too.
Reserve the rink for awesome private parties.
This distinctive candy shop, located in the center of Denver, sells a wide selection of handmade confections but is also well-known for its enormous candy canes. Additionally, it provides a fascinating free tour of the candy factory where you can witness how the candies are made. The tour begins with a tutorial film, after which the kids get to see it in real life. Children adore it!
Hammond's candies also sells chocolates, cookies, snacks and much more. You can spend hours selecting your favorite sweets and learning about all the varieties.
PRO Tips:
You can book your tour online at least 24 hours in advance. Walk ins are possible based on availability.
The tour lasts a half-hour and departs every half-hour.
Hammonds offers birthday party events at their store. You can rent a party room for up to 30 kids as well with a variety of packages including a selection of birthday cakes to choose from.
Do you and your kids love Angry Birds? Shawn the Sheep? Temple of Coins? Enter The Gamebox and bring these games to life with a uniquely immersive experience. Each Gamebox can hold 2-6 players (age 5+). A great way to stimulate (read: blow) your kids minds.
Open every day from 11am and closes at 9pm, except Fridays and Saturdays, closes at 11pm.
Pricing:
$24.99 – 30 mins (Junior pricing: $19.99)
$34.99 – 60 mins (Junior pricing: $29.99)
Juniors (aged 11 and less) must be accompanied by an adult.
PRO Tips:
Bring flat shoes or trainers and wear one layer as you may get hot.
Immersive Gamebox can be booked for birthdays or other family events too.
What to put the pedal to the metal? Karting is available for juniors aged 6 to 13, as well as for adults aged 14 and above. Did you know that Lewis Hamilton and Michael Schumacher both began their Formula One careers in karting? Perhaps one of your children will be the future Formula One champion.
An extremely entertaining way for youngsters to get active and competitive.
First-time youth racers are required to receive a Junior License by attending a scheduled training certification at a price of $55. For returning Juniors $15 per 7 mins race before 5pm.
All racers under the age of 18 will require a Minor Waiver to be completed once by a parent or guardian. The waiver will be valid until your child turns 18.
PRO Tips:
First time racers will need to arrive 30 minutes prior to the start time of the training to allow time for check-in.
Junior Training for ages 6 and 7 requires that the child complete a fit check prior to taking a certification class to ensure height requirements are met.
Junior certification runs Mon-Fri from 1pm-5pm and weekends 9am.
There is a restaurant on site with a Bar for the parents.
On the site of the previous Lowry Air Force Base in Denver, hangar 1, is a family-friendly museum, featuring historically significant airplane, space, and rocket displays. There are more than 50 aircraft, some of which are rare.
Self-guided tours allow you to get up close and personal with each aircraft. Additionally, there are exhilarating flight simulator experiences, relics, and memorabilia, as well as immersive events where you can learn about the future of aviation and space travel.
Look for events held each month where children may enjoy readings, create crafts, or even board certain planes and see the cockpits. Children under three are free too. They also have a great children area as well as a gift shop.
PRO Tips:
Open daily from 10am until 5pm except on Sundays (open from 12pm).
Tickets can be purchased online but also onsite.